Here at the Lewis & Clark Interpretive Center we have period artifacts, world-class art, and interpreters who bring to life the story of Lewis and Clark's expedition west. On a nearly daily basis, someone rushes through the doors of the Interpretive Center, looking as though they are eager to learn about the valuable history on offer, only to make it a few steps inside and suddenly appear confused. That confusion is usually met by a bright-eyed interpreter (currently me) eager to share knowledge with a member of the public. One hundred percent of the time I get to share knowledge with the person, but it's often more along the lines of directing them to the restroom.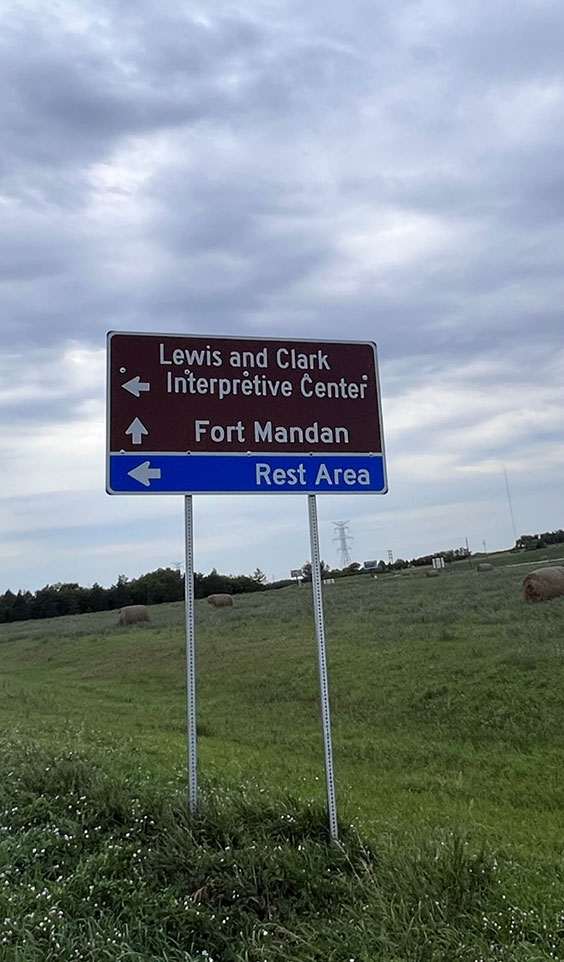 This road sign found along U.S. Route 83 highlights the important "facilities" at the Lewis & Clark Interpretive Center.
Why the rush on our restrooms? The Lewis & Clark Interpretive Center is a designated U.S. Route 83 Rest Area in Washburn with bathrooms available 24/7. We provide a great halfway stopping point between Bismarck and Minot. As a rest area, our site provides excellent amenities. There's ample truck and car parking, a picnic area, a pet area, water fountains, and Wi-Fi. Even inside the restrooms, we've provided clever facts about the Lewis and Clark Expedition for a captive audience! Here are just a few examples of the fun tidbits that adorn the bathroom walls and stall doors: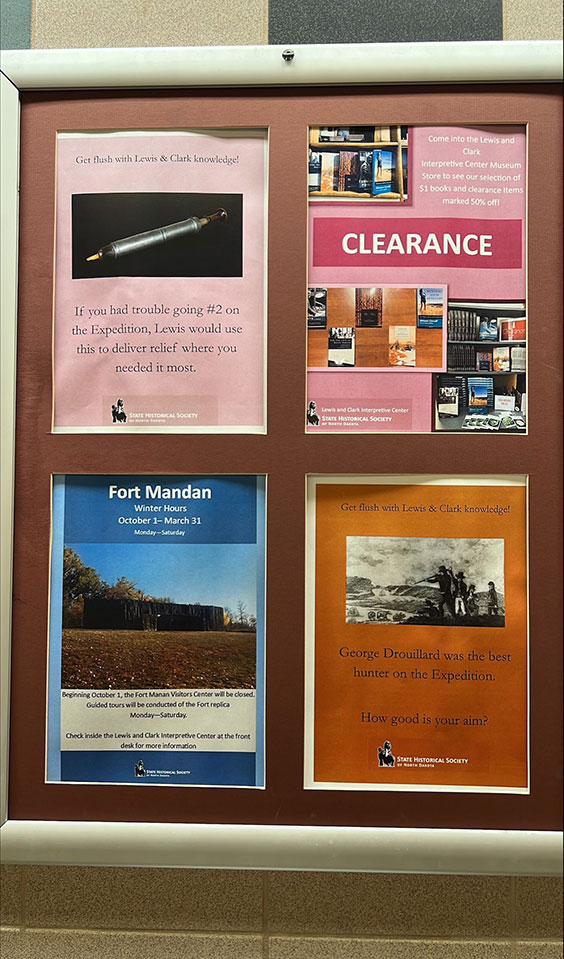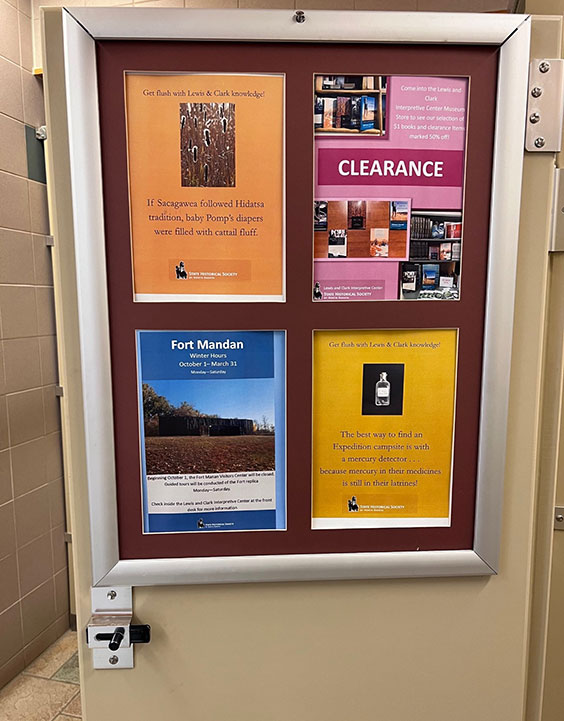 Monitoring the entrance of the Interpretive Center is a big part of our day-to-day operations. While at the front desk, we are able to accomplish a fair amount of research as well as finish other site work, but we are also called away to help visitors. Even if they don't explicitly ask which doors lead to the promised land of relief, visitors often have a look of "help me" in their eyes. Sometimes you will encounter a person wandering through the galleries and clearly in need of assistance. Usually that means one of us wasn't available to redirect the visitor upon entry. Legend has it that the doors to the restrooms only appear after asking an interpreter. I can't speak for everyone on staff, but for me there's a sense of understanding and acceptance when you lock eyes with the rest stop visitors. After all, everyone needs a little help navigating the Bermuda Triangles of this world.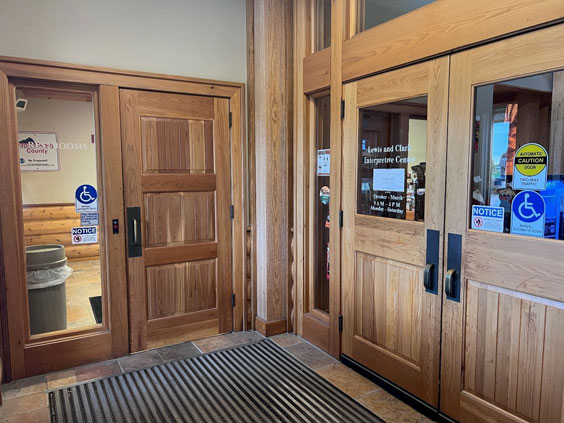 This is the Lewis & Clark Interpretive Center's Bermuda Triangle, where visitors have been known to lose their sense of direction and in some cases make life-altering choices!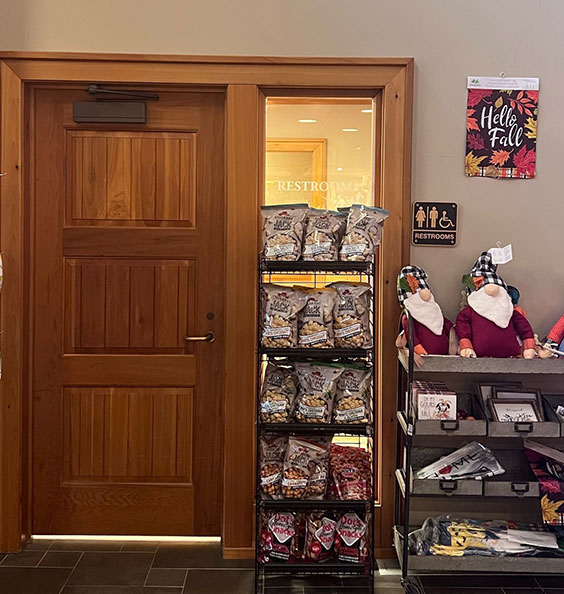 The magic door that only appears after asking an interpreter where to find the bathrooms.
I think it's safe to say most of us working at the Lewis & Clark Interpretive Center are proud of the national attention our site receives; we are grateful for the opportunity to share this bit of North Dakota history with the public. That the site plays a pivotal role not only in our nation's history but also our state's history is a pretty a big deal. So if you're ever on U.S. Route 83, keep an eye out for our road signs and new billboard. There's so much to see and do here. But we also totally understand if you just need a safe place "to go."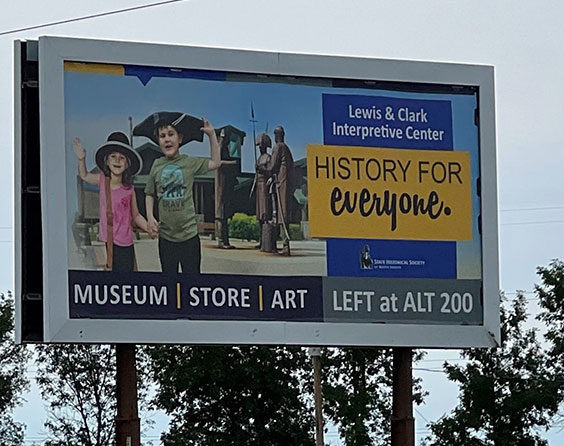 Our new billboard on U.S. Route 83 invites you to experience all the Lewis & Clark Interpretive Center in Washburn has to offer. Don't forget we have galleries, too!