In September I had the opportunity to attend the Mountain Plains Museum Association (MPMA) annual conference in Billings, Montana. MPMA is one of six regional museum associations in the United States that works in conjunction with the national American Association of Museums to advise on regional museum issues. The annual conference provides training, networking, and information sharing for museum professionals at a relatively low cost.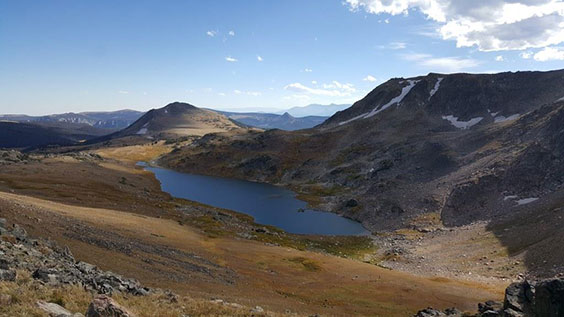 Beautiful Montana
Due to budgets and schedules it's not always feasible to attend every year. Billings, however, is practically next door to Bismarck. We'd just finished up a major exhibit project (The Horse in North Dakota, which if you haven't been to visit yet — well, shame on you, because it's amazing), so a few of us piled into a car and headed west.
I was most excited about the audience engagement workshops. A company out of New York called Museum Hack led both half-day workshops. Museum Hack got its start by giving unconventional tours of New York City museums based on the premise that (a) museums are awesome, but (b) many people don't know that. This is something most museum professionals struggle with — how to effectively relay the incredible stories we know about the objects to visitors.
The morning session focused on storytelling — specifically on how to tell a good story. We all probably know a good story when we hear it, but we needed to break it down to identify its elements. To start, we role-played how both an inebriated person and a college professor might describe a museum visit. (As an aside, I think some of my museum colleagues really missed their theatrical calling.) After the short performances we tossed out adjectives to describe the museum-goers. The inebriated person was passionate, approachable, relatable, but also vague on details and not very knowledgeable. Our professor was authoritative, descriptive, trustworthy, but also quite boring and even snobbish. A good story combines the best parts of the inebriated and the expert storytelling — passionate but knowledgeable; approachable yet authoritative.
Our session leader, Zak, then outlined the five elements of a Museum Hack — whether that's a program, a tour, or even an exhibit.
Engagement or "the hook": Get your audience to do something, and get them involved, because you can't assume they care about the information you want to share.
What's the story? Quickly tell the story, best facts first, in no more than 30 seconds. You'll have time for detail later.
Mind=Blown: Why is this thing/topic amazing?
Connection: Why do YOU respond to this topic or content? Does it connect to the bigger picture outside of the museum?
Drop the mic: Maybe it's a joke or a great last line. Button it all up, leaving your audience asking questions and wanting to continue the conversation.
I left the session inspired, making plans of how I was going to apply my newly learned hack at the State Museum and outlying state historic sites; knowing I now had the power to let the world know that NERDS ARE COOL. Ok, maybe not that much power, but I was pumped.