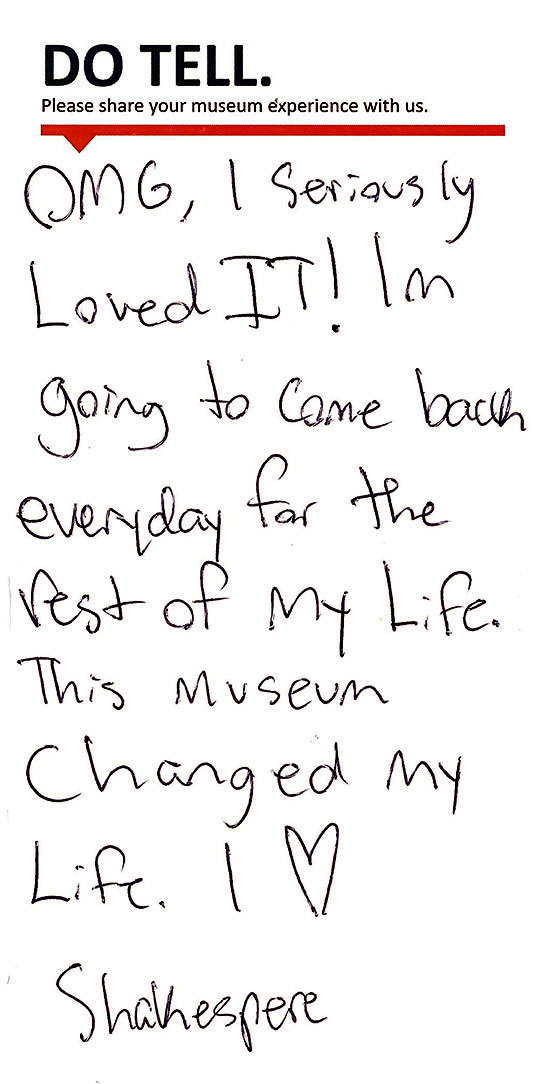 Visitor comment card at the State Museum, summer 2016
What's the best time you've had in a museum? And what made that visit so awesome?
Part of our work in the Communications & Education Division is to find out what our visitors want and need to have the best (or most life changing) museum experience.
The late Governor Art Link once described the North Dakota Heritage Center & State Museum as "the people's place." Our division staff strives to keep his words in mind with everything we do. We focus on providing historically accurate, memorable, educational, and entertaining experiences for 230,000 people coming to this place each year. Quite simply, we want you to learn, have fun, and love museums.
Visitors of all ages and backgrounds come here to discover, to occupy kids for a few hours, to conduct academic research, to enjoy time with friends, to disconnect, to enjoy a program, to sip a latte in the café, or to come in from the cold. With so many motives for museum visits, we use research tools to help us understand what's most important to you.
We conduct surveys, offer questionnaires during programs, conduct focus groups, compile community input, make comment cards available, and monitor what interests you on our websites and social media. That data helps us make informed decisions on future programs, exhibits, and even where our tourist brochures are placed. Your comments make a difference and shape the way we serve the public.
Here are a few key items that were collectively important to our 2016 visitors:
You requested more family activities. We provided more family friendly experiences and had an enthusiastic public response. The opening of the Treehouse exhibit for young visitors has provided fresh energy and laughter in the building. We added programs for toddlers and parents, new art activities, and more free family films. The Museum Division staff also enhanced a popular hands-on dinosaur interactive in the Geologic Time gallery featuring a T. rex battling a Triceratops. Your feedback caused us to stretch in new child-friendly ways, and we are grateful.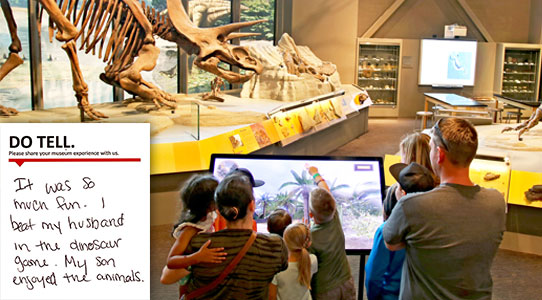 You requested more traveling exhibits to bring the outside world into our state. "I can't afford to travel, so I appreciate having national exhibits brought here," wrote one commenter. We listened. In 2016, we offered the Smithsonian's Green Revolution exhibit and Shakespeare's First Folio exhibit. Teaser alert: Watch for the national Chocolate exhibit opening on May 27. Everything's better with chocolate, museums included.
You wanted easy access to history content at your fingertips. Many of you have commented that our agency website is difficult to navigate. We agree, and we're working on it. You'll see a facelift in 2017. Meanwhile, our staff launched a new State Museum website to help tourists and locals better plan visits and experience parts of the museum virtually.
We discovered that our social media subscribers can't get enough historic photos of blizzards. One December Facebook post reached over 220,000 people. Personal connections to history matter. We understand and will keep working to find and share historical stories and objects that have an impact.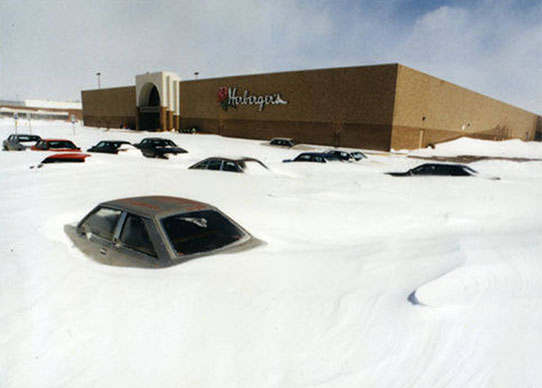 Cars parked in the Kirkwood Mall parking lot in Bismarck were covered in snow up to their windows during the April 1997 blizzard. SHSND 32228-02-10
Sometimes we can't honor every request, like the suggestion of a grade schooler who let us know he would prefer a green John Deere tractor to the red Case ag cab on exhibit. But we do consider every request.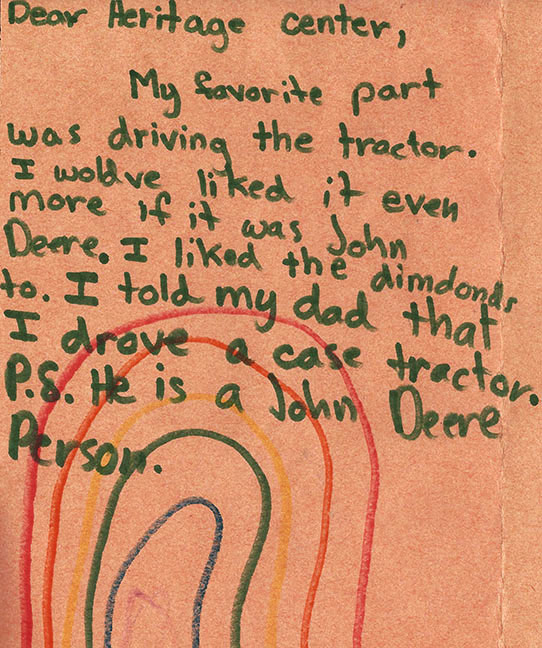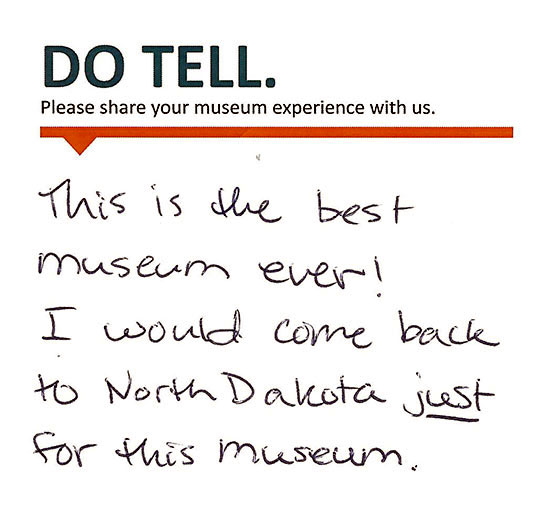 While we can't change a life with every visit, we do promise to offer some pretty amazing moments of viewing rare fossils, a few shrieks of joy from our Treehouse toddlers, and some engaging ways to explore your own connections to North Dakota history—thanks to your helpful comments. As we begin 2017, I invite you to continue sharing questions and ideas.
---