What happens to the objects in a museum's collections if it closes? What happens to a private collection if the owner passes away, no longer wants to keep it, or no longer has the ability to care for it? The objects/collections within these examples are sometimes called orphaned collections. The size of these collections can vary from a small handful of specimens to upwards of thousands or even millions of specimens.
Before a museum agrees to add an orphaned collection into an existing collection, it is important to make sure the incoming objects fit within the mission of the collection. For example, the ND State Fossil Collection would not accept a large collection of baseball cards, no matter how valuable they may be. Baseball cards simply do not fit within the mission of the State Fossil Collection, but might be more appropriate if donated to a collection of historic objects. However, accepting a large collection of fossils from a relatively unknown locality in Bowman County, ND, is well within the mission. It is also important to decide whether this museum is the best home for the collection, as well as whether the museum has the capacity and know-how to care for the objects properly.
In 2015 the ND State Fossil Collection incorporated two large, orphaned collections. Both collections were comprised of fossil specimens collected within or very near to North Dakota, and both will shed light on faunas or individual species (or both) that are poorly represented or unknown from our state.
One collection is comprised of thousands of specimens of the dinosaur Edmontosaurus (small elephant size) collected from a single locality in the Hell Creek Formation along the very northern portion of South Dakota.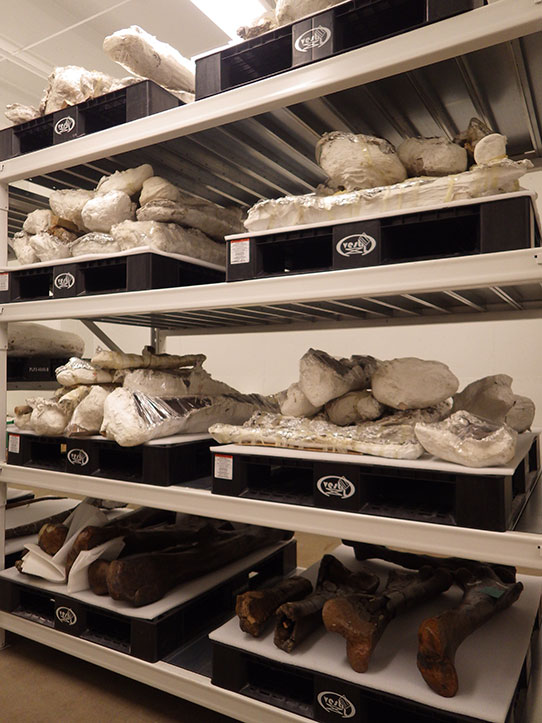 A small portion of our recently acquired collection of Edmontosaurus fossils. One pallet holds between 5 and 10 specimens in a roughly 4 ft. by 4 ft. area.
The site was comprised of multiple individuals of this one species of dinosaur, likely killed in a single cataclysmic event such as a flood or landslide. Virtually every bone in this dinosaur's skeleton is represented in this collection, and the preservation of the bone is exquisite. Becky Barnes mentions working on/with this locality in her blog post.
The second collection is a large accumulation ( > 5,000 specimens) of mostly small animals (mouse size) from the Eocene epoch (35-55 million years ago) in Bowman County, ND.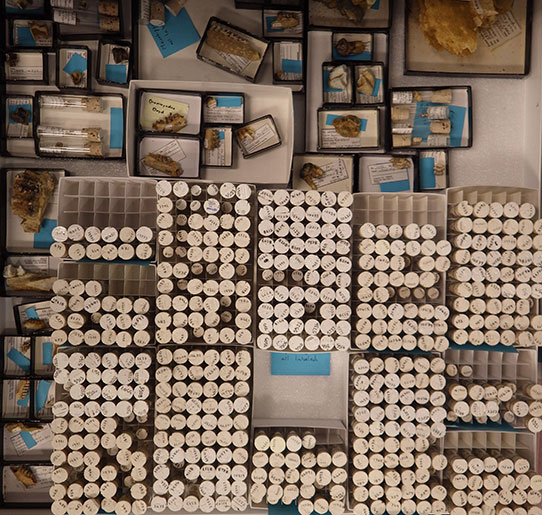 A small portion of our recently acquired collection of Eocene fossils. One drawer (shown) holds between 350 and 450 specimens in a roughly 2 ft. by 3 ft. area.
This collection, also from a single locality, is by far the most diverse Eocene locality known in North Dakota and one of the best from this age in the world. A few papers have already been published on this locality giving detailed information about the small reptiles and a few groups of small mammals. However, there is much more to be done including work on bats, rabbits, dogs, horses, and deer to name only a few.
Both of these collections were tremendous additions to the North Dakota State Fossil Collection. We are working diligently to share the new discoveries within. Please stay tuned...