For most people, the first things they think about when they hear the word "fossil" are bones from some ancient creature. Considering the hard parts of animals fossilize more easily than the soft parts, they have good reason to think so. But did you know that skin can fossilize as well? It is rare, but with the right set of circumstances (the animal is buried quickly, and dries out), paleontologists can find patches of skin. Sometimes, like in the case of Dakota the Dinomummy (an Edmontosaurus on display in the ND Heritage Center & State Museum), paleontologists can find a LOT of skin.
Today, I'd like to write talk about something in between. It's not a skeleton, but it is bone. And it's not skin, but it helps shape and support the skin. It's something called an osteoderm — literally "bone skin." An osteoderm is a deposit of bone material found within the dermis (skin) of some animals, generally covered by a thicker keratin sheath (the same material that makes up your hair or fingernails). The keratin covering is generally called a "scute." Different animals have evolved osteoderms, from lizards and frogs to dinosaurs. Rather than focus on an obscure group of animals, however, I'd like to use crocodiles as an example, since most people can visualize them a little easier.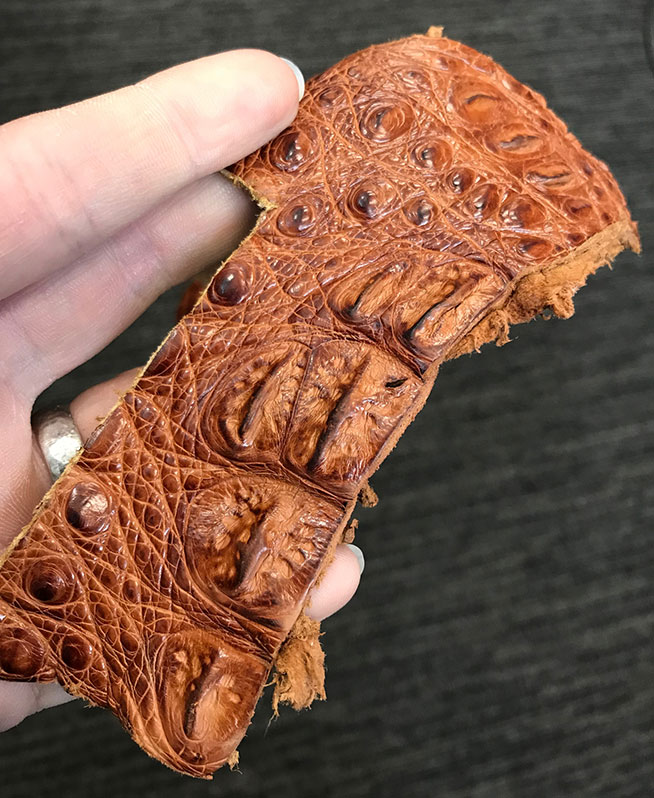 I just *happen* to have some crocodilian leather with osteoderms in place.
If you can imagine crocodile skin (or if you can't, just look at the image above), it is made up of many square scales. Osteoderms are located under the largest of these scales/scutes. Most of the time when crocodile or alligator skin is harvested for use in the clothing industry, those bony plates are removed in order to insure flexible leather, so people don't really get the chance to feel the natural armor. The scute is left behind, giving us the look of a large scale, without the backing of bone.
Osteoderms are one of my favorite pieces to find on a fossil dig. They're small, compact, look like Swiss cheese on the top, and clean up well. In 2013, as we wandered through a fossil site after a rainstorm, I let my eyes wander. As my gaze travelled down one of the now-dry rivulets, I saw six squares of white. Fossils, when they sit out in sunlight for a while, may change color or become bleached. I blinked. Sure enough — I was looking at six little osteoderms all in a row!

Erosional rivulet containing osteoderms bleached white from the sunlight.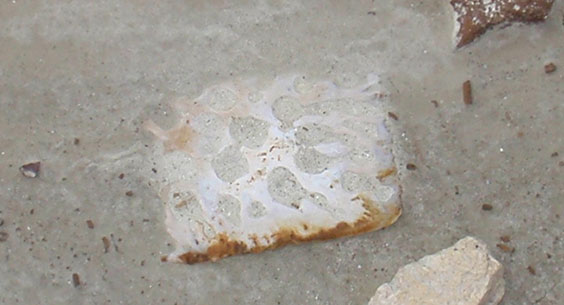 Close-up of bleached osteoderm.
Another site we visit on occasion called Whiskey Creek contains dozens to hundreds of osteoderms. Some are small, and others the size of a large belt buckle. If you're ever out with us when we find these, you may hear us say "scute" instead of "osteoderm." This isn't a slip of the tongue; yes, we know that it's technically an osteoderm. It's just more fun (and faster) to say scute than osteoderm. Scute scute scute!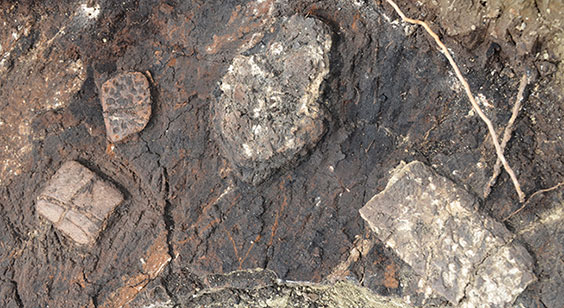 Osteoderms in situ at Whiskey Creek. The smooth side faces inward, and the Swiss cheese side faces the outside of the animal.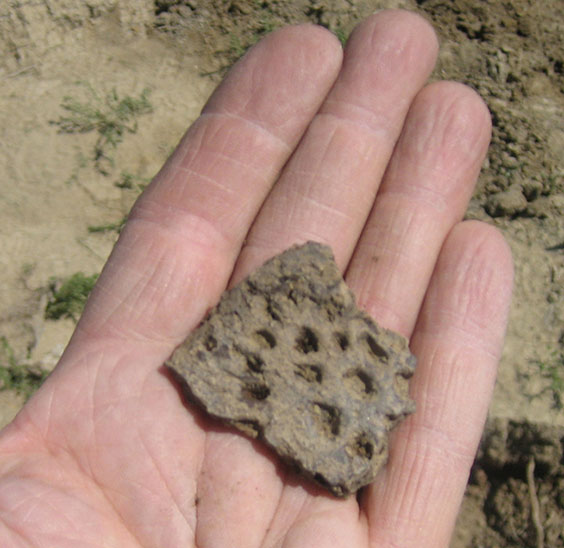 Mid-sized osteoderm, with hand for scale.