Our registration staff at the State Historical Society of North Dakota is tasked with completing the paperwork for and transportation of incoming exhibit loans. We ask individuals, museums, and companies for loans of objects to fill gaps in our collection for the purpose of creating a more complete exhibit. For the upcoming Fashion & Function: North Dakota Style exhibit at the State Museum, created by our own staff, we requested and received 11 loans ranging from a pair of jeans to Cara Mund's Miss America gown.
Our collection does not have much Native American powwow clothing that is sturdy enough to be on exhibit for the two-year duration of Fashion & Function. As a result, we turned to other museums in neighboring states to fulfill our need.
Discussions with the Minnesota Historical Society began in January 2020. First, we identified the pieces we wanted to borrow for the exhibit by searching their online database. We came across a woman's jingle dress and a child's grass dance outfit in their collection that would be perfect additions to our exhibit. They then required us to fill out a General Facility Report about the North Dakota Heritage Center & State Museum. The report asked everything from what material the walls were made of to how far the building is located from the closest fire station. It took us a few months to complete the report, and then COVID-19 struck. We pivoted to telecommuting from home, while the staff from Minnesota was also sent home for a time. Due to the pandemic, it was November before Head of Curatorial Services Melissa Thompson and Jenny Yearous, curator of collections management, drove to St. Paul to pick up the loaned dress and child's outfit. Our internal loan policy states that loans in transit must be accompanied by a curator at all times. So during the drive back to Bismarck, either Jenny or Melissa stayed with the boxed loan in the vehicle. They took turns using restrooms and relied on drive-thrus for meals.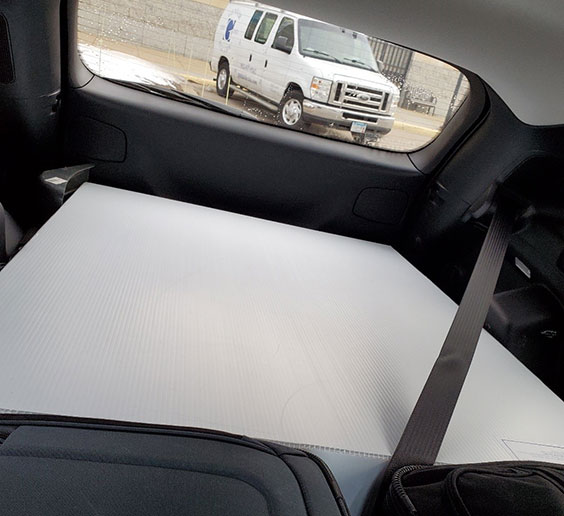 The loans from the Minnesota Historical Society were transported in a box made of coroplast, which is a corrugated archival material.
One of the loans from the Minnesota Historical Society was a jingle dress completed by Orvilla Longfox (1956-2020) of Cloquet, Minnesota, in 2016. Longfox was an artist who revitalized the ancient art of quillwork learned from her mother. She was renowned worldwide for her traditional artwork with dyed quills and buckskin. Her work is featured in museums and businesses, as well as in private collections.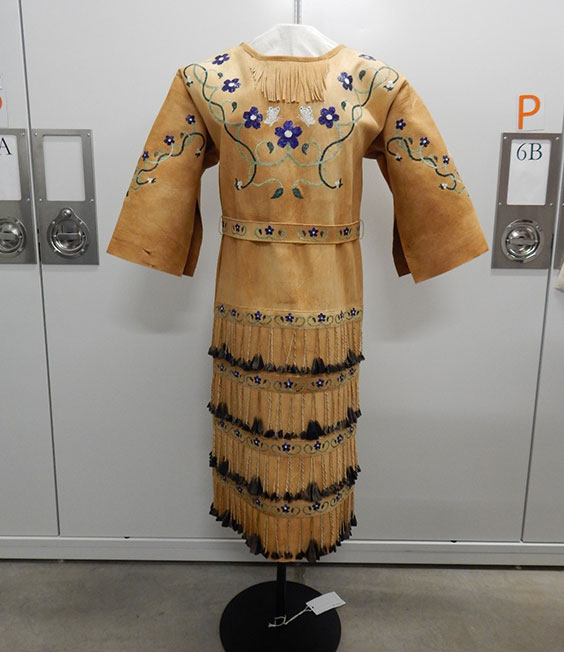 This hide, hoof, and quill jingle dress on loan from the Minnesota Historical Society features floral-and-butterfly quillwork designs and deer toes for jingles. The dress took Orvilla Longfox one and a half years to create, partly due to collecting and cleaning the deer hooves and quills.
Meanwhile, the boy's grass dance outfit, below, was made by Kirstie Davis Deyhle of the Mille Lacs Band of Ojibwe for her son Loyn Deyhle during the winter of 2001-2002 and altered as Loyn grew. It was worn at the Mille Lacs Indian Museum Memorial Day powwows in 2002, 2003, and 2004.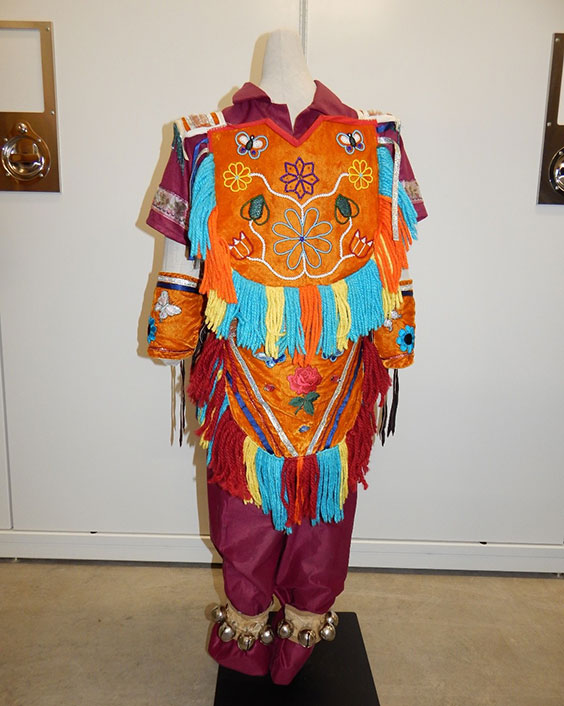 Ojibwe boy's grass dance outfit from the Minnesota Historical Society.
Jocelyn Lamoureux-Davidson (born July 3, 1989), a North Dakota native from Grand Forks, played for the now-defunct University of North Dakota women's hockey team. Her skills earned her a place on the U.S. Women's National Team. She won six gold medals and one silver medal at the women's world hockey championships. She was also a member of the U.S. Olympic Women's Ice Hockey teams at the Winter Olympics in Vancouver, Canada, in 2010, and Sochi, Russia, in 2014. At the 2018 Winter Olympics in South Korea, Jocelyn scored the game-winning goal to win the gold for Team USA.
When we heard that Jocelyn and her twin sister Monique Lamoureux-Morando were going to be inducted into the Theodore Roosevelt Rough Rider Hall of Fame at the North Dakota State Capitol last summer, the agency got in touch with the governor's office and was able to get Jocelyn's contact information. Jocelyn kindly offered one of her USA hockey jerseys and her 2009 IIHF World Women's Championship gold medal to the Fashion & Function exhibit. Ideally, she would have travelled to Bismarck to drop off the items or Melissa would have travelled to Grand Forks to pick up the items. Due to the pandemic, however, we put our trust in the U.S. Postal Service to transport these items. They arrived safe and sound and will be on display in the exhibit's sports section.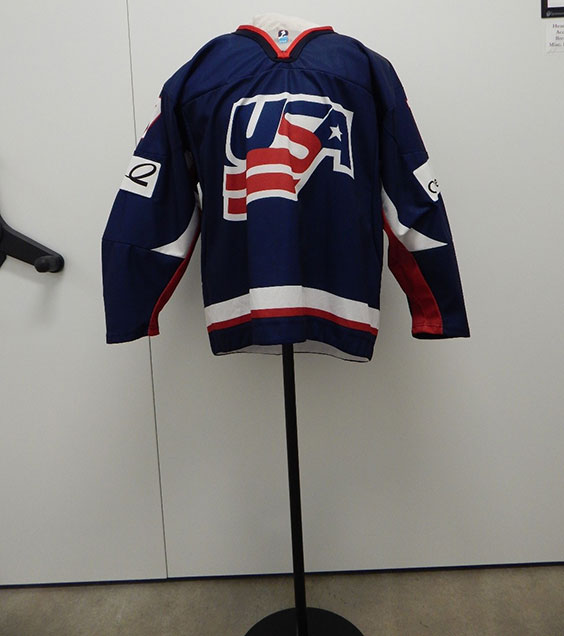 Front view of Jocelyn Lamoureux-Davidson's jersey from the 2009 world women's hockey championships.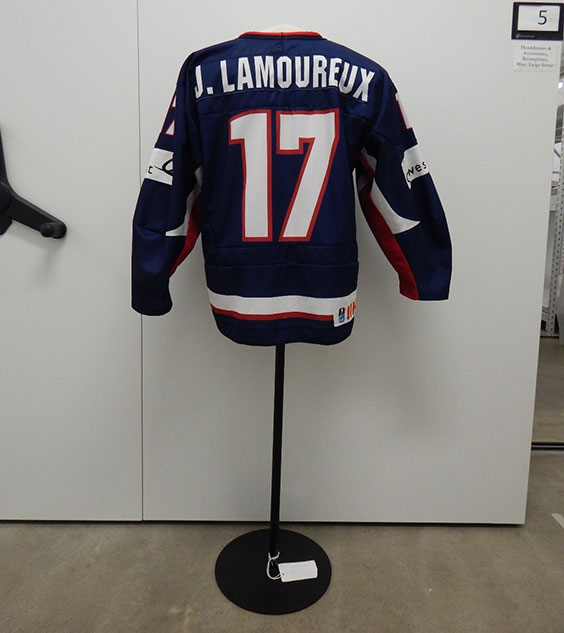 The back view of the same jersey with its J. Lamoureux nameplate.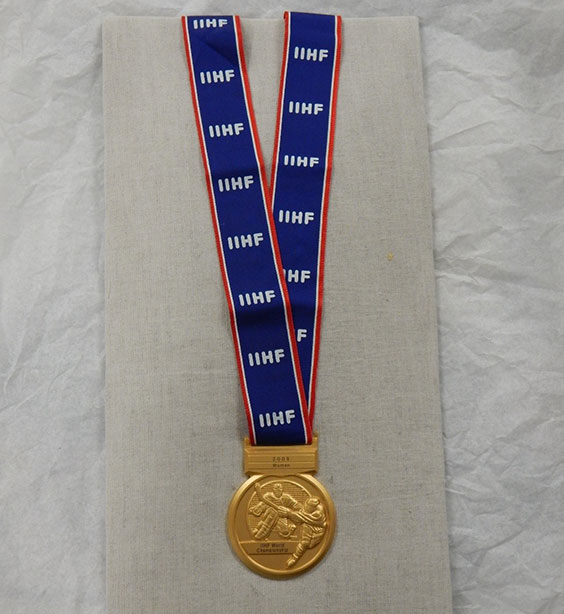 Check out the bling. Here is Lamoureux-Davidson's 2009 International Ice Hockey Federation World Women's Championship gold medal.
Born in Jamestown, Peggy Lee (1920-2002) was an acclaimed musician and actress. Elise Dukart, assistant registrar, knows her best as the voice of Peg from Disney's "Lady and the Tramp." The State Historical Society did not have any artifacts in the museum collection to showcase the famous singer's life and fashion style, so we reached out to Peggy Lee Associates LLC in California for assistance in February 2020. The exhibit team decided to borrow a beautiful dress worn by Lee in the early 1940s.
Like Lamoreaux-Davidson's items, Lee's dress also needed to be shipped from its location.
Holly Foster Wells, Lee's granddaughter and president of Peggy Lee Associates LLC, had intended to bring it in person in July 2020 during a Peggy Lee centennial year celebration scheduled in Jamestown and Wimbledon. But the pandemic prevented her from travelling, and the celebration was postponed. The dress was shipped to the Historical Society in July.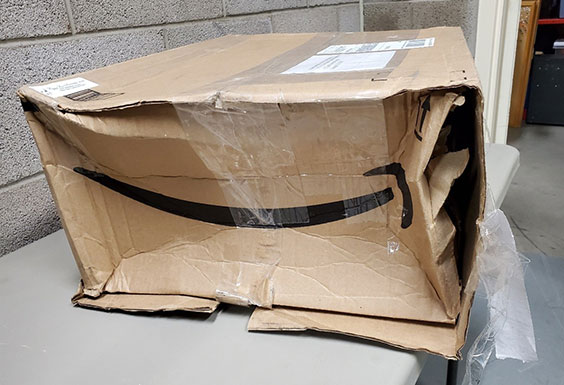 Peggy Lee's dress for the exhibit arrived in this bruised and battered box.
Unfortunately, the box containing the dress arrived damaged. The registration team took photos of the box and contacted the Lee organization to alert them of the situation. The dress was then removed from the box, and its condition was assessed. Additional photos were sent to Peggy Lee Associates LLC. Thankfully, the dress was not damaged during shipment. It currently happily resides on a mannequin amid the other dressed forms waiting to go on exhibit.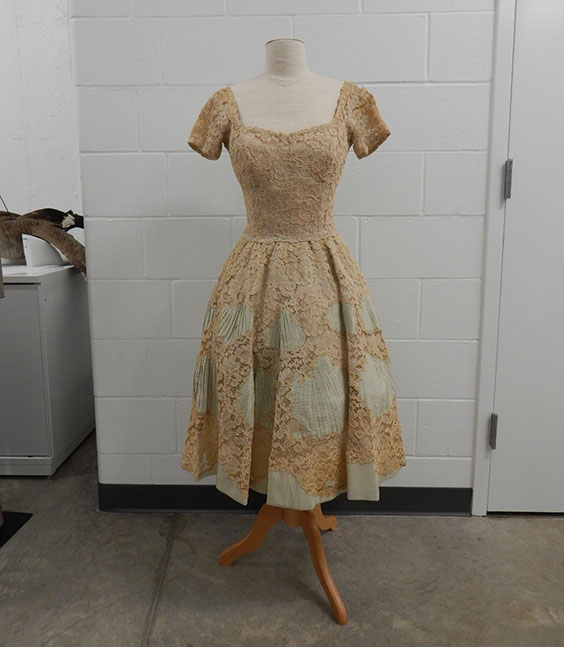 A dress worn by the singer and actress in the 1940s was borrowed from Peggy Lee Associates LLC.
We are grateful to all those who worked with us to obtain loans for Fashion & Function during these trying times of the pandemic. This exhibit, opening in February, will be more complete because of these items.
---
This blog was co-written by Elise Dukart.