During the 2021 legislative session, management of the Lewis & Clark Interpretive Center and Fort Mandan in Washburn transferred from the North Dakota Parks and Recreation Department to the State Historical Society. To grasp the full extent of what the agency had just obtained, we needed to perform a complete inventory of the sites' collections. With laptops, cameras, and steely resolve in tow, our collections staff descended on the Interpretive Center and got to work on a project that will entail multiple visits. During our initial trips, we came across some fun, quirky, and surprising items in storage. What follows is a sampling of some of our more interesting finds.
1. This box looked like many others in the Interpretive Center storage. Any guesses as to what could be inside?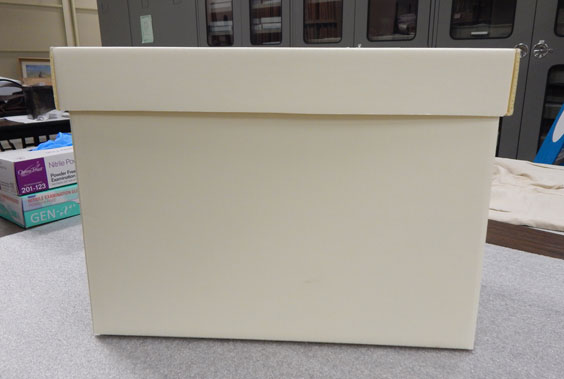 The contents of this box were anything but ordinary.
Based on the wobble and weight of the box when removed from the top of a cabinet, we thought it might contain a piece of pottery with a bowling pin-style bottom. Imagine our surprise when we lifted the lid and saw the beady little eyes of three small taxidermy critters: a gopher (with a face that looked like it had run headlong into a brick wall), a weasel, and a mole. Lewis & Clark Interpretive Center only has a few natural history objects, so we were certainly not expecting to be greeted by these curious creatures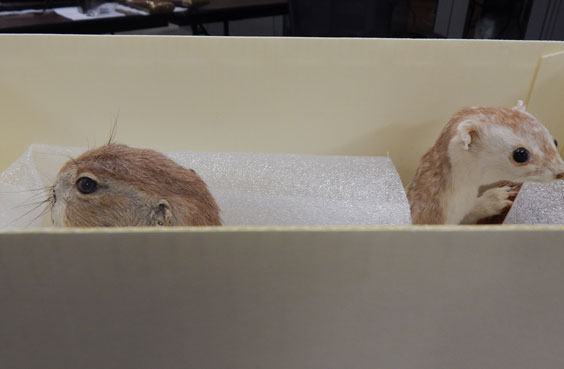 Some of our cute taxidermy friends. SHSND
2. In a box filled with Bismarck artist Vern Erickson's sketchbooks, we found this scrapbook labeled "Napkin Art." Like us you're probably wondering, "What is napkin art?"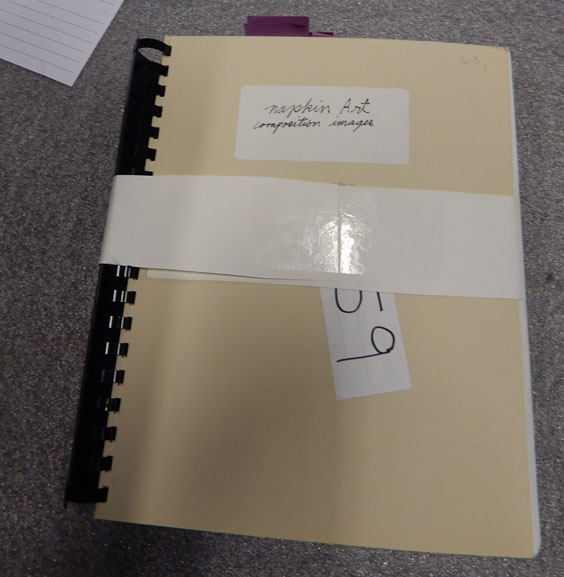 SHSND
It turns out napkin art is exactly what it sounds like. Attached to the pages of Erickson's scrapbook were napkins from North Dakota restaurants filled with (mostly pen) sketches of Native Americans and horses, though he also included a few examples of place mat art. Napkins from Donutland and Wendy's feature descriptions of what colors the artist would like to use in his painting of the sketch as well as other notes. Considering the medium, some sketches are very detailed, putting our doodles of fancy "S" and anime eyes to shame.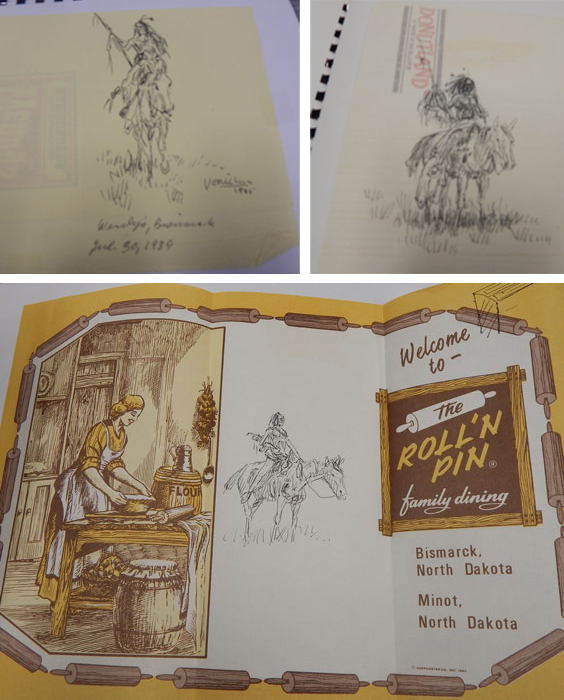 Artist Vern Erickson's detailed sketches of American Indians on horseback adorn napkins and place mats found in one scrapbook. SHSND
3. A box of Altoids in a collections space? We all know food and drink is not allowed in collections spaces, right? So what could be in this tin?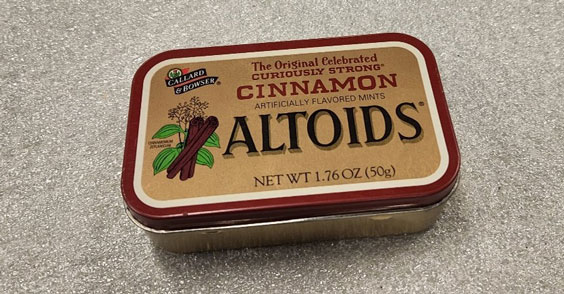 SHSND
Given the Interpretive Center's plethora of lead shot, it really shouldn't have come as a surprise that the tin was full of tiny lead balls. Indeed, Lewis and Clark's Corps of Discovery is a key collecting theme for both the Interpretive Center and Fort Mandan State Historic Site. These shot are in remarkably good condition compared to some of the other lead shot already inventoried and had not turned white due to oxidation.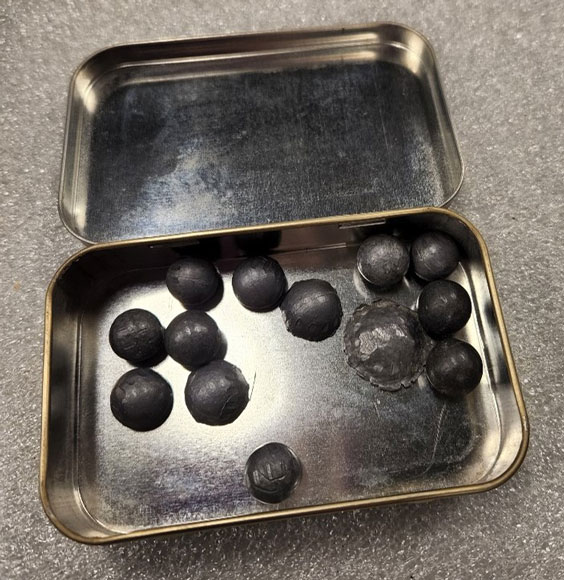 Not exactly the "curiously strong" contents you might have expected. SHSND
The inventory is not yet complete, so we wouldn't be surprised if additional interesting finds await us. Since there are many more objects at the Lewis & Clark Interpretive Center than we initially estimated, we look forward to other fun discoveries.
---
This blog was co-authored with Elise Dukart.