Since the Governors Gallery in the ND Heritage Center & State Museum opened in November 2014, we've hosted a variety of traveling exhibits from nationally-recognized institutions such as the Smithsonian, NASA, and the Field Museum. It's been an amazing opportunity to bring world-class exhibits to North Dakota to share with visitors. Now it's our turn to showcase uniquely North Dakota objects and stories in an exhibit produced by the State Historical Society of North Dakota – The Horse.
Planning began over a year ago, and although we've got lots still to do, I thought I'd share some of the work we've done so far.
Design
I like to think of an exhibit as a story that we tell to visitors. The objects and photos, the text visitors read, and the design all have to work together to communicate the narrative. An important component is what we call the graphic style. This includes assigning colors, choosing fonts, and selecting materials. Some choices are for practical reasons – is the font easily legible and are the materials safe for our artifacts? But we also consider subjective questions, such as what can we tell visitors about the exhibit before they read the first word of text?
Horses are often associated with stereotypes of the "wild west." Although the era of cowboys and ranching is an important part of North Dakota's horse story, our exhibit will start long before then – millions of years ago when early dog-sized horses roamed the forests of what would become North Dakota. Our design, therefore, had to speak to much more than rustic cowboy tropes.
We decided on a modern design that could be appropriate for all eras. The stylized horse shape can apply to the many species of horses and is also a nod to the horse drawings in Native American ledger art. The "swoops" in the font echo the horse's mane and tail, and evoke the movement of a running horse. The bright colors will be used throughout the exhibit to indicate new themes and topics.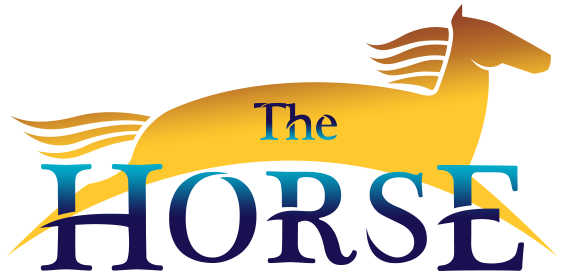 Objects
The Governors Gallery is almost 5,000 square feet, which gives us the opportunity to showcase some of the larger objects from our collection. In The Horse exhibit we'll be bringing out a few of our horse-drawn vehicles. One is the Petersburg fire engine. Made around 1914 by the Waterous Engine Works Company of St. Paul, Minnesota, it was purchased by the fire department of Petersburg, North Dakota. It was gifted to the State Historical Society in 1954 and boasts the original paint job.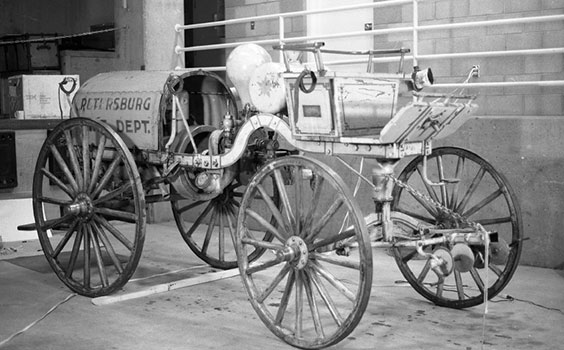 If you've ever wondered what a "one-horse open sleigh" is, we'll have one of those on display, too. This velvet-upholstered, cutter-style sleigh was originally owned by the Marquis de Mores.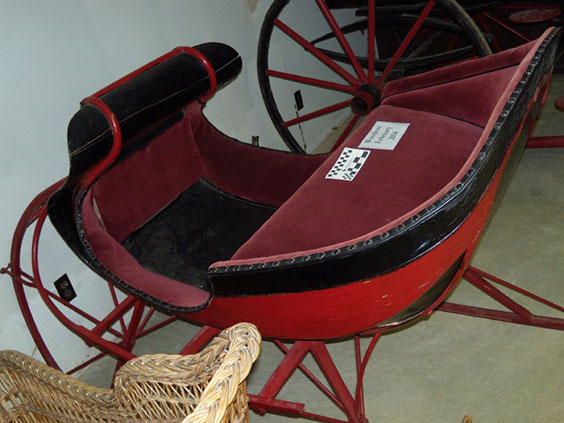 Stay tuned for my next post in May, which will have more behind-the-scenes details about developing The Horse exhibit. The Horse opens July 14.