In 2014, the Museum Division was offered over 160 different collections.  About 120 of these donation offers were accepted and made part of the museum's collections.  We would like to highlight a few of these collections.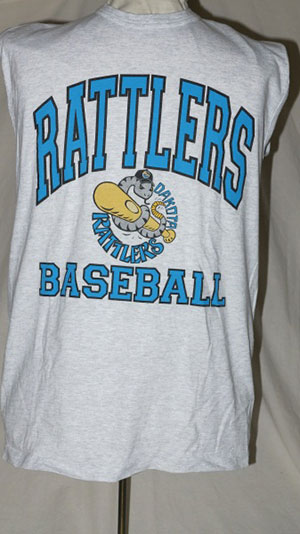 2014.00066 T-Shirt
Paul Rechlin purchased season tickets for the Dakota Rattlers baseball team in Bismarck for the seasons of 1995 and 1996.  "Some of the best summer nights our family spent together as the kids were growing up were watching the Rattlers.  Those games represent some of the beautiful things about growing up in a less-developed ND."
The Rattlers were in the independent Prairie League, a minor league from 1995-1997 with teams in Aberdeen, SD (Pheasants 1995-97), Austin, MN (Southern Minny Stars 1996-97), Bismarck, ND (Dakota Rattlers 1995-96), Brainerd, MN (Bobcats 1997), Brandon, MB (Grey Owls 1995-96; West Man Wranglers 1997), Grand Forks, ND (Varmints 1996-97), Green Bay, WI (Sultans 1996), Minneapolis, MN (Loons 1995), Minot, ND (Mallards 1995-97), Moose Jaw, SK (Diamond Dawgs 1995-97), Regina, SK (Cyclones (1995-97), and Saskatoon, SK (Riot 1995; Smokin' Guns 1996; Stallions 1997).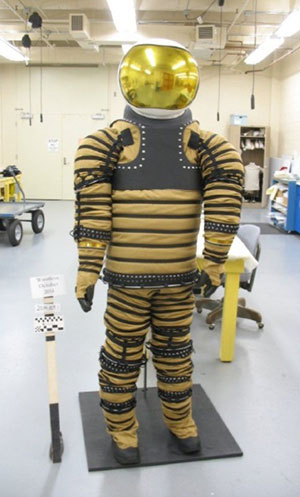 2014.00109.00001 Space Suit
Since 2005, the Department of Space Studies at UND has been involved in researching the area of planetary space suit systems.  The North Dakota Experimental – 1 (NDX-1) Mars Prototype suit was the first Planetary Space Suit built at the university level.  The NDX-1 is a planetary suit concept demonstrator designed by a team of UND graduate students led by Pablo de Leon and mobility expert Gary L. Harris.  The prototype has been successfully tested by conducting surface operations jointly with NASA in a number of extreme environments including the North Dakota badlands, Utah, Antarctica, and Australia.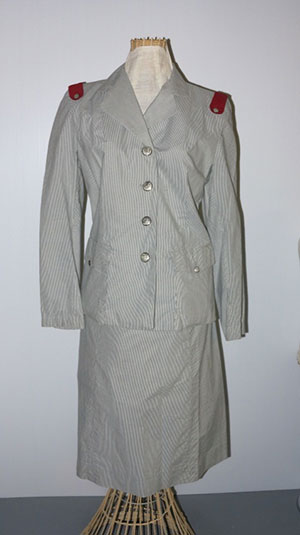 2014.00111 United States Cadet Nurse Corp summer uniform
The United States Cadet Nurse Corp was created in 1943 to replenish the severe nurse shortage.  It covered training costs, paid a stipend, and issued a grey wool dress uniform and a summer uniform.  Upon graduation the nurses were obligated to serve in the military and to start carrying out their duties on hospital floor. By 1945, US Cadet Nurse Corps nurses were providing 80% of the nursing care in U.S. hospitals.  Adeline Kraft graduated from the program in 1946 and was stationed at St. Alexius Hospital in Bismarck.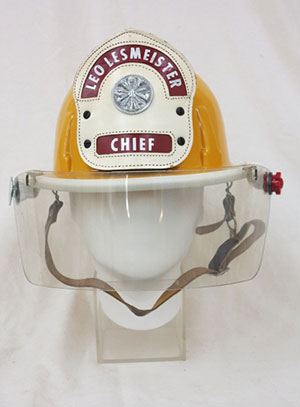 2014.00119 Fire helmet
Leo Lesmeister was the first Fire Chief in Halliday, ND, beginning in 1951.  Leo helped develop a card catalog system so that each farm was assigned a number, which was then used for directions to the emergency, like the modern day 911 system.  He remained Fire Chief until 1997.