I am one of the fortunate people who get to work with and protect some of the treasures of our state. As it turns out, a few of those treasures are a little unusual. The State Historical Society began formal collecting efforts in the early 1900s. In the intervening century, what is now the Museum Division has assembled a collection of a little over 74,000 artifacts (this does not include the holdings of our other collecting divisions). With a collection of that size I still find things that surprise me, even after four years of working here.
 
1. Patsy the Calf (2010.52.1)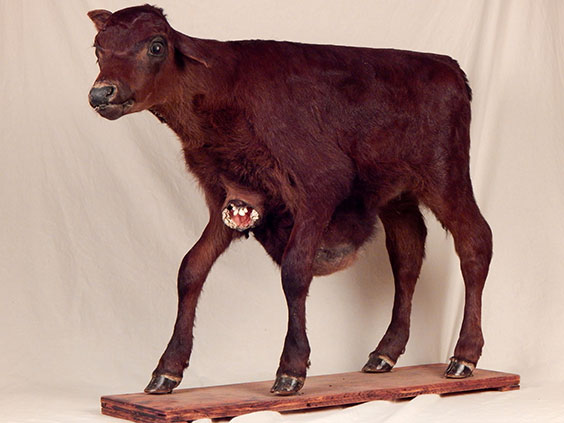 Born on a farm in the Williston area, Patsy is a unique calf. If you look closely at her chest, you'll see a twin that never separated while she was in the womb, leaving a mouth and undeveloped eyes under her neck and a large bulge on her rib cage. She was calved in April1976 and lived until June of that year before dying of pneumonia. Upon her death, the family decided to have her remains preserved by a taxidermist. Twenty-four years later, in 2010, she was donated to the State Historical Society. Keeping Patsy's remains preserves an unusual part of farm life in an agricultural state.
 
2. Buffalo Hide Chair (13346)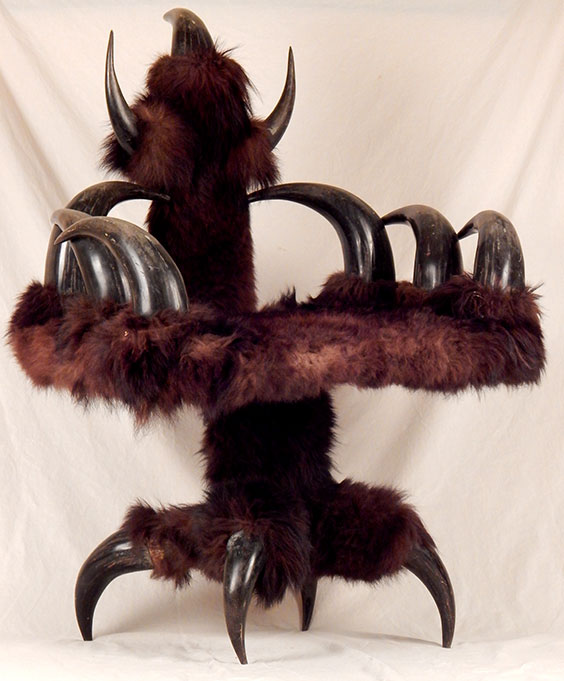 We have many pieces of furniture in the collection that are upholstered in buffalo hide, invariably with horns used for components such as the bottoms of chair legs, armrests, and back supports. Horn furniture was popular and stylish in the late 19th century, though most mass- produced pieces were made with cow, rather than buffalo parts. To modern eyes, including my own, the look of horn furniture can be somewhat…unsettling…to say the least, and that's why I included it on the list. We believe it was produced in the 1880s in Kidder County. With the prevalence of buffalo in North Dakota's natural history, our collection of horn furniture is a very North Dakotan twist on a popular fad.
 
3. Novelty Coffee Pot (1994.12.1)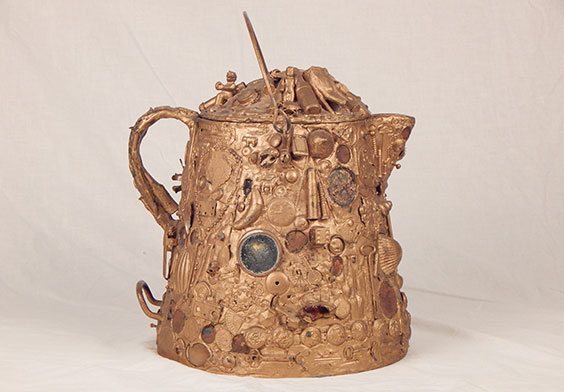 Some items just make you scratch your head, and this is one of them. All we know about the coffee pot is that it was given to the mayor of Pembina, North Dakota, around 1900. Glued to the side are rifle cartridges, dice, seashells, pocket watches, and military buttons. The list could go on. All of this was given a thick coat of gold paint. Who did this and why did they do it? The world may never know.
 
4. Shackles (1982.48.8)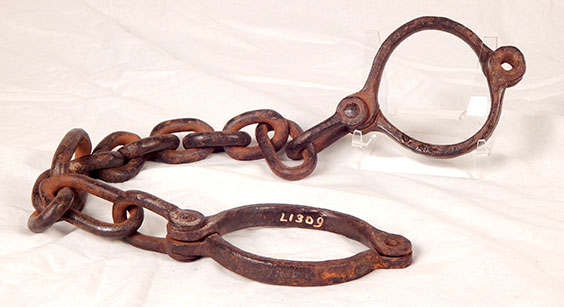 Some of our unusual items are not unusual because of what they are, but because of the story associated with them. These shackles were used to restrain a horse thief known as "Club Foot" Wilson, who had stolen two mares in Mercer County, Dakota Territory, in 1884. At the time, there was a vote to decide the county seat, with a choice between the towns of Causey and Stanton. Realizing the race was tight, local officials offered to set Wilson free in return for his voting for Stanton, which he of course did. According to the donor, Stanton won by one vote, though the records I have at my disposal do not confirm that. By keeping this item, we preserve an unusual story about justice in Dakota Territory.
 
5. A Pioneer Murder Weapon (10895)

In February 1897, eight members of the Spicer family were brutally murdered in rural Emmons County. While there are conflicting accounts regarding motive, Thomas Spicer, head of the family, was shot and killed with the Model 1842 Springfield musket pictured above, while working in a cow shed. The remaining members of his family, including five other adults and two babies, were killed with other weapons. Five men were arrested in connection with the murders and though all were initially sentenced to death, two eventually went free for lack of evidence. It is unlikely that we would even be offered an item like this in 2017. Preserving it however, tells a story about the dangers of pioneer life.