My drive down U.S. Highway 83 runs straight and lumpy through green fields punctuated by the occasional small town anchored by grain elevators and church spires. It's high summer, the day of the Accordion Jam Fest at the Welk Homestead State Historic Site just outside Strasburg, and I'm eager to see where the famed entertainer and bandleader spent his early years. Still relatively new to my job at the State Historical Society of North Dakota, I've made a pact to acquaint myself with as many state historic sites as possible before winter's onset.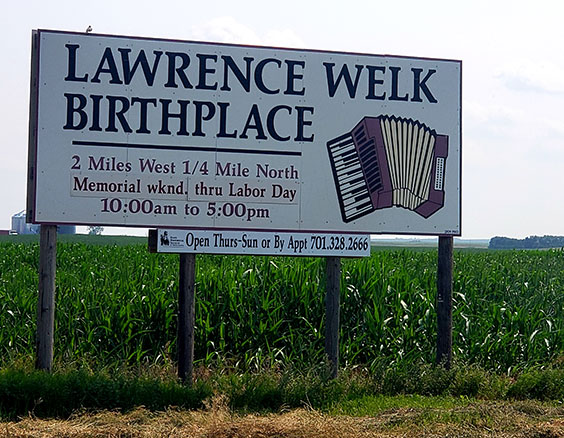 While the Welk Homestead is my ultimate destination, I've been told I can't miss a stop at Keller's Hardware Hank on Strasburg's Main Street, where a "secret" door in the shop leads to a former hotel turned museum.
I've called ahead, and when I arrive co-owner Gary Keller wastes no time in giving me a rundown of the building's evolution since his immigrant grandfather Valentine Keller bought the place in 1910. At the time, it was an implement shop, which sold windmills and horse-drawn farm equipment. By 1917, Valentine had ripped "the roof and front off," added a story, and expanded the building into a hotel and restaurant, which opened in March of that year and offered "modern" amenities such as hot and cold running water, electric lights, and steam heat. For a quarter century, the hotel would serve as a way station for an array of colorful characters, including bootleggers, boxers, and even the odd bear.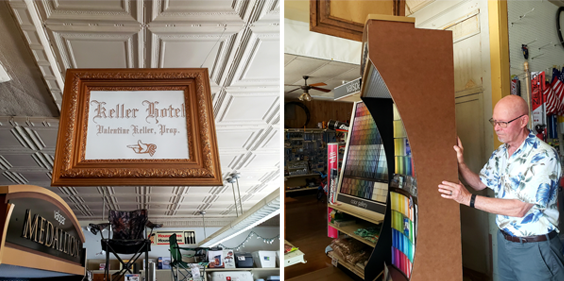 An overhead sign in Keller's Hardware Hank, left, points in the direction of a "secret" door located behind a wall of paint sample cards.
Yes, you heard that right.
As Gary explains: "There was a vaudeville act in town, and they had a trained bear. After the performance, they brought the bear into the hotel, took him down into the basement and chained him to a post. Dad could hear the bear's chain tinkling on the concrete."
Needless to say, his father, Valentine Keller Jr., who was spending the night in the small room behind the lobby desk, had a tough time falling asleep.
In the early 1940s, Valentine Jr. opened a hardware store on the ground floor, which has been in existence ever since, and the hotel shuttered shortly thereafter, never to reopen again. An uncle and his wife briefly occupied a couple of the former upstairs hotel rooms, and Gary remembers playing in their quarters as a child and thinking, "It would be wonderful to live up here … like living in a castle."
While not exactly a secret (a sign hanging from the ceiling points in the direction of the "Keller Hotel"), accessing the door requires Gary to move a portable wall of paint sample cards. Gary and his brother Dick converted the upstairs into a museum in preparation for the 2002 Strasburg centenary. (If you want to see the museum, an appointment is advised.)
Once upstairs, visitors enter a time warp. Three of the 11 hotel rooms are preserved in their original state with the remaining rooms featuring a variety of period-appropriate reconstructions, including a barbershop and a bank lobby with fixtures from Strasburg's very first bank. (Gary's grandfather bought the fixtures after the bank went belly-up during the Depression.) Fittingly, there's also a display on local musicians, including Mike Dosch, John Schwab, and Lawrence Welk. According to family lore, Welk is said to have played weddings at the hotel and to have been sweet on one of Gary's aunts.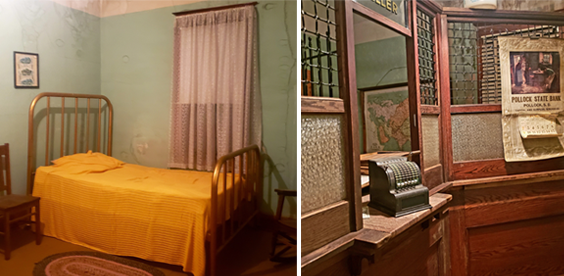 A preserved hotel room, left, and fixtures from Strasburg's first bank in the upstairs museum.
The longstanding and tight-knit connections, which exist among the families of this German-Russian community, are evident throughout the tour. Mike Dosch, Gary tells me, is the great-uncle of his niece Kathy Dosch, who has popped upstairs during my tour to say hello. John Schwab's brother Lawrence was married to Gary's aunt, Regina Keller. John and Lawrence, who would die tragically in Room 11 during the 1918 Spanish flu, grew up in the Schwab sod house (John would also raise his family there), which is located about six miles northeast of town and open to the public. The widowed Regina would go on to marry another Schwab brother and live in the sod house for a time with him and her in-laws. Two of John Schwab's sons would marry two sisters, who happened to be Lawrence Welk's nieces. (In an interesting twist, these two sisters Evelyn and Edna Schwab would sell the Welk Homestead to the State Historical Society in 2015.)
By the way, had I seen the Schwab house? Kathy asks. I had not, and after lunch at the Blue Room bar, I set out past a "road closed" sign at the far end of Main Street (there is no paving from here on out), proceed around two curves, then continue straight until I come to a dilapidated stone house (straight out of a Hitchcock film). From there, I turn left at an intersection and begin the final three miles of the journey down a road buried deep among cornfields.
Despite Kathy's excellent directions I manage to miss the plywood sign that shouts "Schwab Farm" and only see it after I give up and turn around. The sod house, now with white vinyl siding thanks to a 2010 facelift, is perched on a hill overlooking the road and was built in the late 1800s by the Schwab family, immigrants from the Odessa region of present-day Ukraine. Like the Welk Homestead, it is part of a "Prairie Legacy" Talking Trail, which explores German-Russian heritage across Emmons, Logan, and McIntosh counties. In addition to the sod house, the farm once included a summer kitchen, chicken coop, granary, and barn, but those outbuildings are long gone.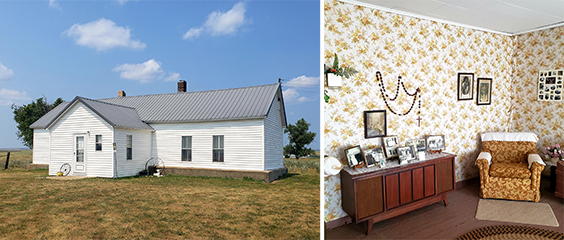 This little sod house, home to generations of Schwabs, offers a glimpse into a bygone era.
I remove the flathead screwdriver, which secures the front door, and step inside, moving tentatively through eerily still rooms filled with old family photographs, vintage furniture, and Catholic iconography. In the living room, an accordion sits on a stand next to a black-and-white television set. Several of John Schwab's children were also talented musicians who played in a band called the Bubbling Quintet, his daughter Antonia Baumgartner will later tell me when I reach her by phone. Lawrence Welk, she adds, used to ride out to the farm and "ask dad to teach him certain things" on the accordion. Baumgartner, who spearheaded the sod house's renovation in 1988, furnished the interior to reflect how it looked in the mid-20th century.

The Welk Homestead State Historic site details German-Russian farm life and Lawrence Welk's early years.
With the late afternoon heat spiraling upward, I carefully replace the screwdriver in the latch, then circle back to the Welk Homestead, where Matt Hodek & the Dakota Dutchmen are about to take to a flatbed trailer stage parked along Baumgartner Lake. (Antonia's mother was a Baumgartner who grew up near the Welk farm, and Antonia would also marry into the Baumgartner family.) While I wait, I get my North Dakota Passport stamped by a girl at the admissions desk and examine the tiny (by contemporary standards) rooms where Welk spent his childhood in a white farmhouse built of batsa bricks. There, I pick up a button accordion and clumsily attempt a few notes. I snap a picture with a cardboard cutout of the big man himself then head over to the granary, where information panels tell the story of the United States' "Germans from Russia" and a video recounts Lawrence Welk's life and career.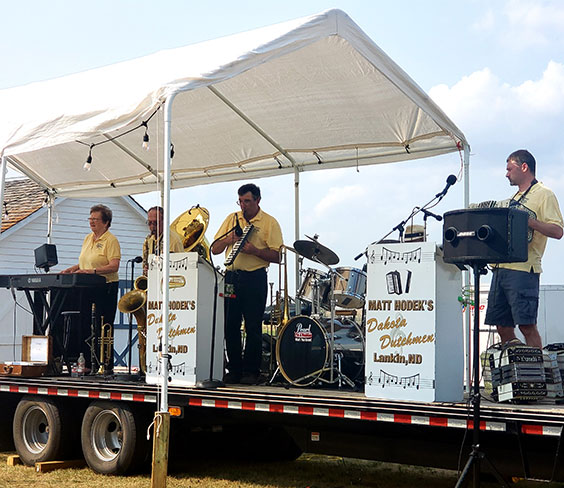 Matt Hodek & the Dakota Dutchmen perform at the Welk Homestead State Historic Site earlier this summer.
At last, the music starts. Couples get to their feet. I watch mesmerized as an elderly man in a beige jumpsuit and his prim partner in capris begin to polka, hopping and circling vigorously to the accordion beats. Clearly the heritage of Strasburg is very much alive, nurtured at our state historic site and by the people and communities that surround and sustain it. As I nosh on kuchen, the music's hypnotic rhythm blissfully transports me–and it's almost as if no time has passed at all.
The Welk Homestead State Historic Site near Strasburg is open Thursday-Sunday, 10 a.m.-5 p.m. through Sept. 5. On Aug. 28, it will host "Party with the Monarchs" from 1-3 p.m., which will include kite flying and butterfly-related crafts.