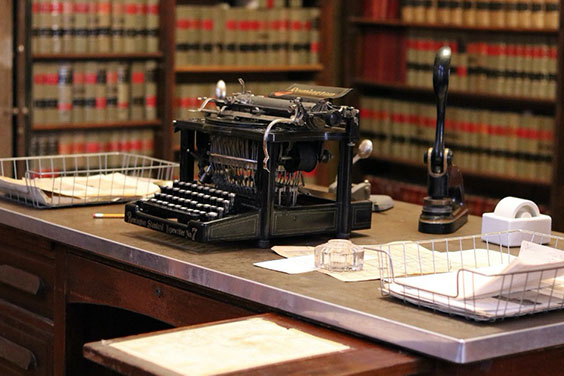 A Remington No. 7 typewriter is on the auditor's desk.
It's been five very busy months for the new civics exhibit in Jamestown. Time for an update!
Back in November, I wrote that we had received a $24,000 grant from Jamestown Tourism to develop the interior of the 1883 Stutsman County Courthouse State Historic Site as a museum about American civics.
Of course, the current COVID-19 pandemic adds significant complication to the project. We're hoping we can open as scheduled on May 23—and indeed that all our sites and museums can open by then—but only time will tell. Exhibit design involves work with people of all kinds of professions, both locally and around the country. It has been so uplifting to see how many of them love what they do and want to figure out creative ways to do what they can under challenging conditions. Of course, their safety comes first, and if a project has to stop to protect their health, they know we can wait.
The courtroom walls and ceiling are being restored to their original colors.
We had one very good piece of news this year. Our historic sites budget permitted us to repaint the courtroom and install historically appropriate brass chandeliers. This room with its soaring pressed-tin ceiling must have been inspiring to look at in its day. Soon we'll see that again.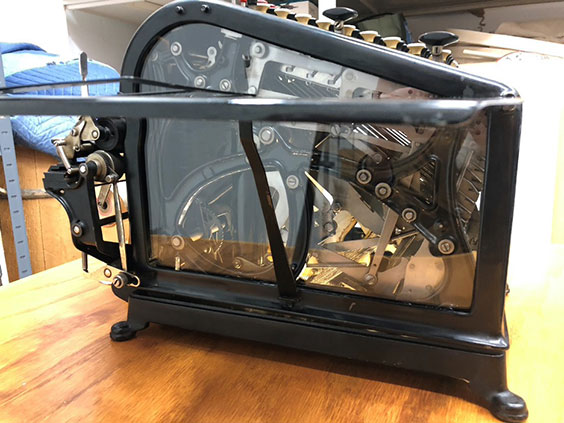 Local art fabricator Jonah Eslinger volunteered to install warm yellow LED lighting in the Burroughs adding machine, which will help visitors see how this ancestor of modern computers worked.
One of the joys of this project has been finding and fixing up functional antiques. We've purchased surveyor's tools, a stenotype machine, a coin sorter, wall clocks, and more. The one that's captured everyone's hearts is the circa 1908 Burroughs adding machine, an 80-pound mechanical calculator that was state-of-the-art in its day. It has glass sides to show off its elaborate mechanical interior.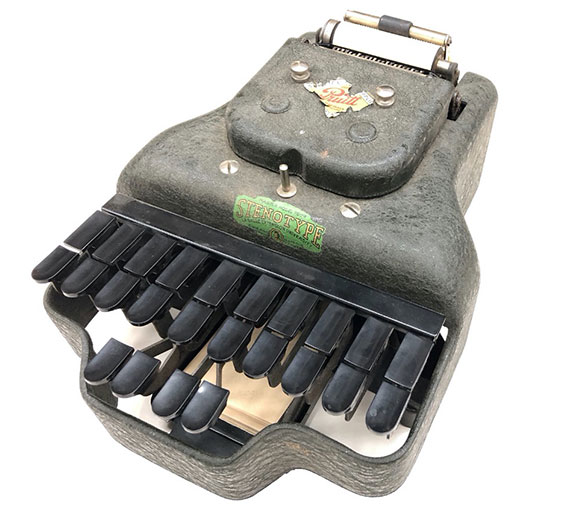 It was very satisfying to figure out how to press "chords" with the stenotype machine and type a basic sentence in shorthand—a satisfaction I hope many visitors will feel as well.
I was surprised by the stenotype machine, which we found easily at a local antique store. To write instructions on how to use it, of course, I had to first learn the basics myself. I really had no concept of how amazing this little device is, nor did I realize that it may be more relevant today than ever. Modern stenotype machines with automated shorthand-to-English text outputs are not only still used in courtrooms, but they are also used to close caption live broadcasting.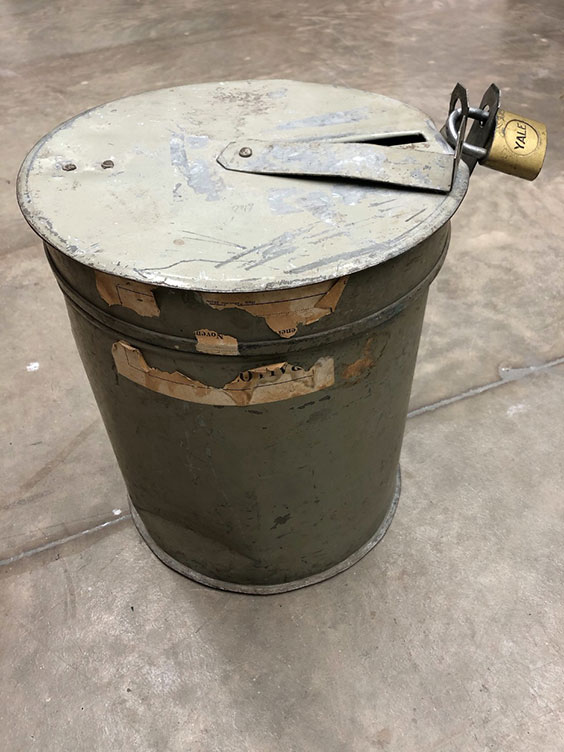 One of the original Emmons County ballot boxes was donated by Allan Burke.
We were also fortunate to have several items donated to the project. For example, Allan Burke, editor of the Emmons County Record, donated five actual ballot boxes that had been used in Emmons County, probably during the first half of the 20th century. One will be used for our voting activity, in which visitors can express their opinions on some of the most interesting and intriguing issues to ever appear on North Dakota ballots.
Writing the exhibit texts has been made a joy by the incredible outpouring of support from our reviewers, many of whom have been volunteers. While I ultimately accept responsibility for any inaccuracies that may sneak past into the final exhibit, the texts have been made vastly stronger by these individuals' diverse areas of expertise. An incomplete list includes historians Barbara-Handy Marcello, Tom Isern, and Mark Joy; attorney Tory Jackson; former public service commissioner Susan Wefald; Dakota and Lakota knowledge keepers Kevin Locke and Lisa Rainbow; political scientist Tom Johnson; exhibit designers David Newell and Allison Limke; former North Dakota Studies coordinator Neil Howe; agency editor Pam Berreth Smokey, and 1883 Courthouse Committee members Barb Lang, Art Todd, and Jackie Tarpinian.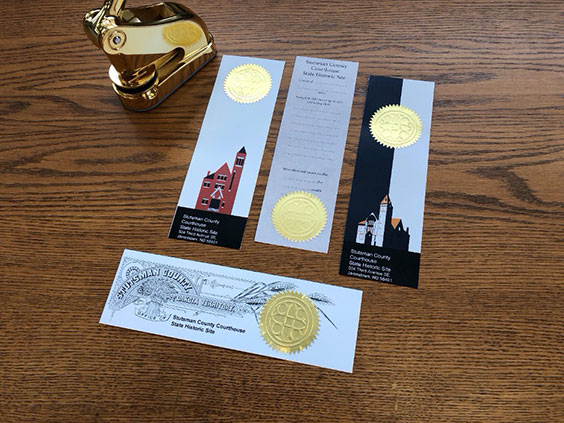 Visitors will be able to stamp their own Courthouse bookmark with a seal press, certifying that yes, the Courthouse officially supports reading.
I'll close with some favorite facts I've learned while researching this project.
In 1908, Stutsman County established a poor farm. I had basically never heard of a poor farm, but it turns out that many counties across the state and around the country had them up to about the mid-20th century. Citizens who needed shelter and food received them in exchange for farm labor, at least to the extent that they were physically able. It's an institution that raises a lot of questions and provokes a lot of thought.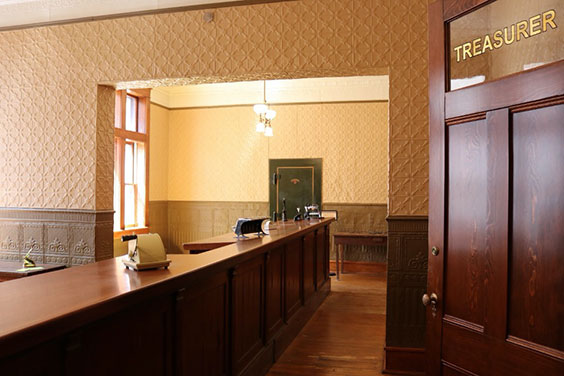 I had initially assumed this was a service counter, but it may have been considered a bookkeeper's desk in its day.
Standing desks are nothing new. The courthouse has a built-in bookkeeper's desk over 20 feet long and spanning two rooms. It was considered convenient to place the most commonly used ledgers and spreadsheets in accustomed places on such a standing desk and let the clerks walk from one ledger to another as they referenced and wrote down data. It would be as if, instead of having one or two widescreen computer monitors, you had a 20-foot one—that you shared with a half dozen colleagues.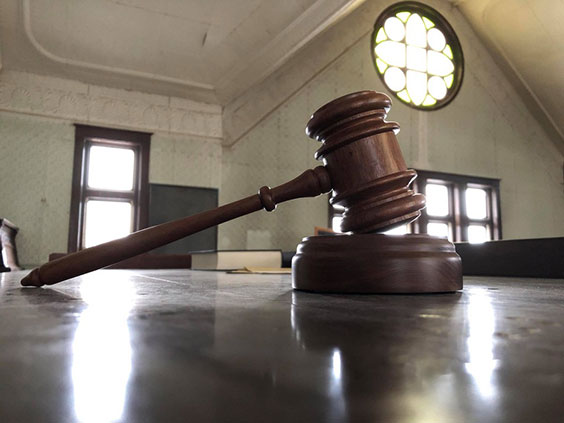 A gavel was more likely to have been used in the 1880s than the 1980s.
There were very few years when you would have seen a gavel, robes, and courtroom flag used together. What could be more iconic than a judge in black robes, wielding a gavel, with an American flag behind the bench? Well, it turns out that you didn't get all three of these for most of North Dakota history. I learned that judges seldom if ever use gavels anymore. They may have been more common in the 19th century, when many members of the public considered trials to be a form of free entertainment (the ultimate reality show, I suppose), but apparently actual outbursts in court today are considered so rare that the only gavels many judges own are screwed to a commemorative plaque in their offices. Robes and flags, meanwhile, have had the opposite trajectory, becoming more common over time. Newspaper searches suggest that early North Dakotans associated judges' robes with European (read: undemocratic) courts, and accordingly I've barely found any photos of North Dakota judges in robes before about World War II. Likewise, photographs in the State Archives indicate that although US flags were common throughout courthouse interiors, the classic floor-standing flag behind the judge's bench only gradually became common between the 1950s and the 1980s. Before 1950, you were far more likely to see a wall clock behind the bench than a flag.
This museum will be one of the first of its kind—a historic courthouse filled with objects and activities that illustrate multiple aspects of American citizenship. It would be wonderful if this project inspires people to establish civics museums in other historic courthouses, too. But either way, I think we'll have a very rewarding experience for our visitors in Jamestown.