A tree house, a free house,
A secret you and me house,
A high up in the leafy branches
Cozy as can be house.
-Shel Silverstein
To me tree houses are the epitome of what childhood can be. Whether the tree house is a real structure in the backyard or made of pillows and blankets in the basement, it lives largest in the imagination. It's a place to dream, to play, to read, to talk, to simply be. It's safe and fun, and always carries the whiff of hot summer afternoons and the stickiness of melted cherry popsicles.
Almost four years ago we started planning how to take this ephemeral nostalgia and transform it into a museum space just for kids at the North Dakota Heritage Center & State Museum. The old museum had an exhibit space called Dakota Kids. Although it was updated periodically, there were a number of elements that young parents remembered (fondly) from when they were kids. It was popular and had lots of repeat visitation, but it had drawbacks too. We wanted the new kids' area – the Treehouse – to incorporate the beloved elements of Dakota Kids, but update it and correct problems.
So what did we do?
-Plan for the caregivers as well as the kids
Dakota Kids had only two chairs for caregivers and lots of nooks and crannies. The Treehouse will integrate multiple seating areas so caregivers can both keep an eye on their kids AND take a short rest. There will also be open sight-lines to easily keep track of active and fast-moving younglings. Adjacent to the Treehouse entrance will be cubbies for bags, hooks for coats, and parking space for strollers. 
-Emphasize exploration and imagination
For safety, many things in the rest of the museum can't be touched. In the Treehouse we want kids to not just touch, but to push, pull, spin, steer, climb, and slide – in short, to touch and DO things. The Treehouse can provide the beginning, but the kids will tell the rest of the story. We'll give you a plane to sit in, but only you and your co-pilot (maybe it's Chewbacca?) will decide where it will fly, or if it's a spaceship, or what adventures are encountered along the way.
-Make it fun and durable
No doubt, kids are hard on things. We want LOTS of kids to visit and use the Treehouse, so it's designed to be tough and easily-repaired. You won't find modern technology up in the Treehouse, but you will find timeless design and tried-and-true construction methods. Just like in Dakota Kids, we want today's pint-sized visitors to bring their kids back in twenty years to the Treehouse they remember.
The Treehouse will open in about three months. We hope you are as excited as we are!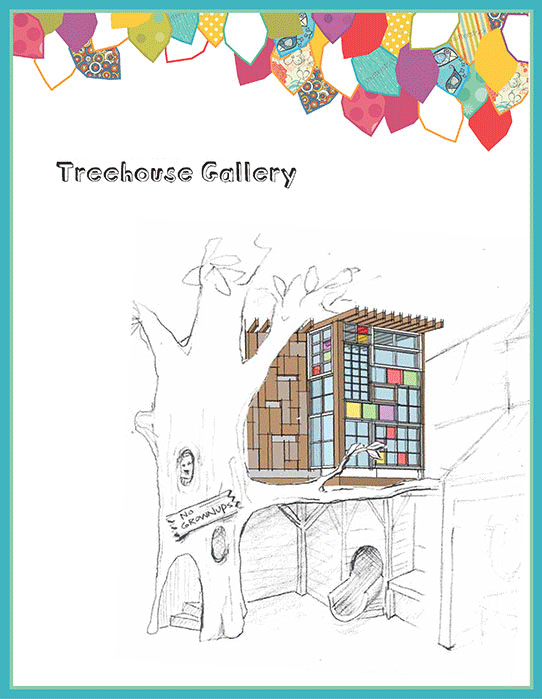 Artist's rendering of the new Treehouse area.