I often get asked what I do for work. If I say new media specialist supervisor people tend to look at me with a blank stare. I then briefly explain what my team and I do to help them get an idea of the scope of our work. I'll break down the main areas below.
Websites
We are responsible for keeping the agency's websites updated. This includes not only content but also Drupal updates. What is Drupal you ask? Drupal is the content management system (CMS) most of our websites use. I recently spent many of my days and nights Drupaling. This was due to a major Drupal upgrade that required recoding our websites. I won't bore you with all the details, but I now know what a Twig file is, and it has nothing to do with a tree.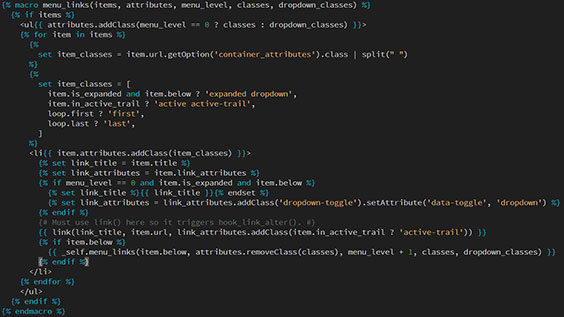 This code snippet is what makes the menu work on the State Museum website.
Graphics
We design many, many graphics in all different forms, from ads to brochures and flyers to billboards to PowerPoint presentations to exhibits to store merchandise to publications to digital signage and everything in between. Have you seen the Fashion & Function: North Dakota Style exhibit at the North Dakota Heritage Center & State Museum? The logo, all the fabric walls and information panels for each section, exhibit card, ads, and video wall graphics were designed by our team of new media specialists.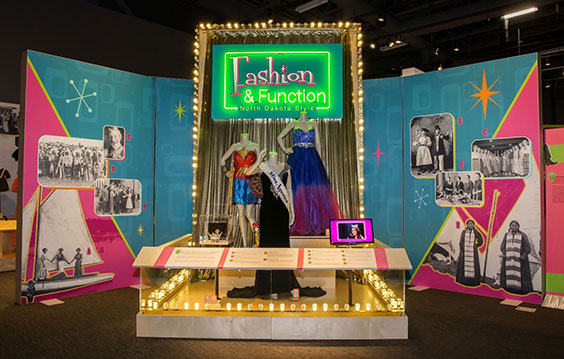 This photo of Fashion & Function showcases some of the graphic elements we designed for the exhibit, including fabric walls, rail panel, and logo. On the far right side you can also see part of an upright panel.
Social Media
Some people think social media is just about creating posts, but there's a lot more to managing these accounts. It also means adding events, responding to messages, monitoring comments, and reviewing insights and stats for posts to see how well they did so we know what content interests our followers. It requires striking a careful balance of posting enough but not too much.
Photography
Photography is a big part of our job here. It seems like there's always something that needs to be photographed, both for marketing and archival purposes. If a new exhibit goes up, we take pictures. If an object needs to be photographed, we take pictures. If we have an event, we take pictures. You get the point.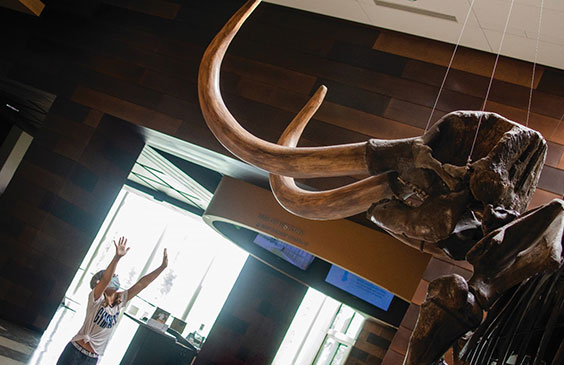 This is one of my favorite photos and not just because it's of my niece. We've used it in ads with the headline "Anything is fossil-ble."
Video Production
It seems we are doing more video production every day. We take care of everything involved in video production from start to finish. This includes helping write scripts when needed, hauling equipment, lighting, filming, scanning or photographing items to include, editing the video and audio, captioning, and exporting the final video to the necessary format. Our YouTube channel includes many of the videos we've produced.
Animation
At the moment, we are working on a fun animation project and plan to do more in the future. One of our animations shows the ground sloth Megalonyx transforming from its skeleton to how it likely appeared with an overlay of fur. This helps people visualize the animal beyond the fossil. We also animated the logo for Fashion & Function to look like a neon light turning on since the sign in the exhibit is neon.
There are other odds and ends that we do as well, but these are the main duties we take care of while also staying on top of design trends and incorporating them into our work. I love the variety my job offers each day and never have to worry about being bored!