Historic sites may display images or stories of tragedy and bravery in battle. Others bring to life accounts of flourishing Mandan and Hidatsa trading centers centuries prior to statehood. The Former Governors' Mansion State Historic Site offers glimpses of life in the capital city for North Dakota's first families of decades past, including times of celebration and song.
We can't be certain which songs were sung around the fireplace or which Beethoven pieces may have been played on the 1910 Steinway in the parlor — but we do know that music filled the home on many occasions between 1893 and 1960 when governors and their families lived there.
For the past several years, we have incorporated live music or sing-alongs in most events, and for some events music is the main attraction. "Watermelon and Folk Songs" on Independence Day, "Labor Day Folk Songs," and "Memorial Day Poetry and Music" commemorate special days with an assortment of songs sung by staff and visitors. These programs draw good-sized crowds eager to participate in a community sing-along.
As both an educator and a professional musician, I am grateful for the opportunity to develop these programs. It would be easy to sing only songs that I know, but offering a presentation that more accurately reflects the history of the Mansion requires much research — and rehearsal! To begin planning, I research American songs that were popular between the late 1800s and 1960, depending on our theme. Although YouTube is a fantastic resource, it's not necessarily accurate, so I search for information from sources such as the Smithsonian Institution or academic libraries around the country. I also need to be certain that I understand the topic; many song lyrics are filled with sarcasm and double meanings, so it's important to check the background of the lyrics before presenting them to the public at a state historic site!
After song selection, I learn the melody and the chords for guitar, ukulele, or piano. Luckily for me, Site Supervisor Johnathan Campbell understands that if I'm quietly singing in a back room between greeting visitors, I'm actually making sure I'm prepared to lead a publicized event for people who come specifically to the Mansion on Independence Day or another holiday.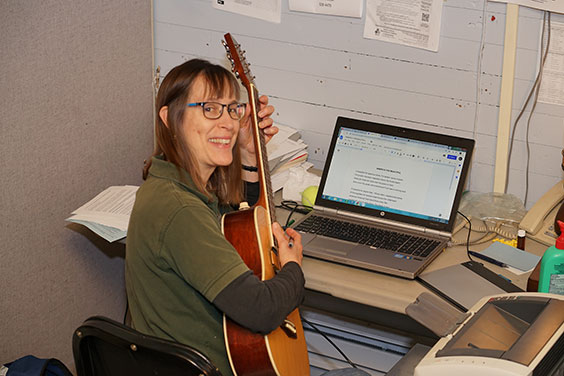 On the day of the event, visitors sing using handouts or lyrics projected onto a screen — after all, participation is the main reason people come to music events. In fact, visitors have asked us to host more regular folk song sing-alongs.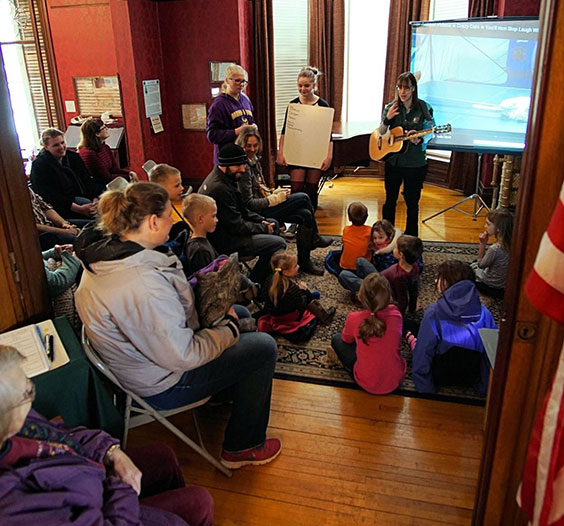 Our Independence Day program is festive, often featuring shakers and percussion or a special appearance by Uncle Sam (Gary Miller) singing and playing banjo. The Memorial Day poetry and music event is much more reverent and subdued, with an opportunity for guests to share a story of a friend or family member who served in the military. One of my favorite events, it tends to be filled with heartfelt remembrances and a sense of community as we listen to each other's stories.
Years ago, children played at the Mansion and on the grounds. We've hosted thousands of children for "Fun Friday," "Birds, Bugs, and Slugs," "Dinosaur Day," and other programs with music. Our Flag Day parade, which travels around the Mansion block and is led by children waving handmade flags and playing drums or blowing horns, has been a newspaper photo favorite for the bright colors and lively participants.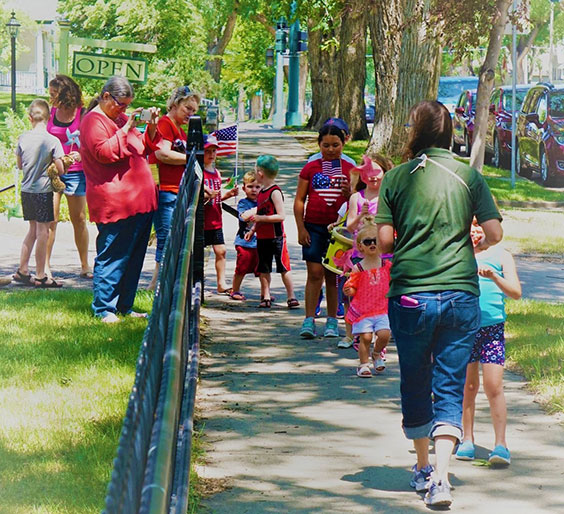 Adding music to events may be seen as simply a "little extra something" for our visitors, but we've found that by adding carefully selected songs, we can offer an engaging, one-of-a-kind experience that holds a special place in the memories of Former Governors' Mansion visitors. They often return year after year.