They say love makes the world go round, and we believe it here at the Chateau de Morès State Historic Site. This summer we are feeling the love from our partners at North Dakota Tourism as they help us navigate the waters of our brand-new visitor center! That's right, the Chateau is now home to a flagship effort that matches expert staffers with travelers from across the world.
Thanks to this partnership, ND Tourism provided a new display for informational literature, exclusive merchandise, as well as brand new photo-ops to help commemorate your Western Dakota adventure. Meanwhile, we staff the visitor center with knowledgeable Chateau team members ready to help you discover the jewels of North Dakota.
So what can we do for you?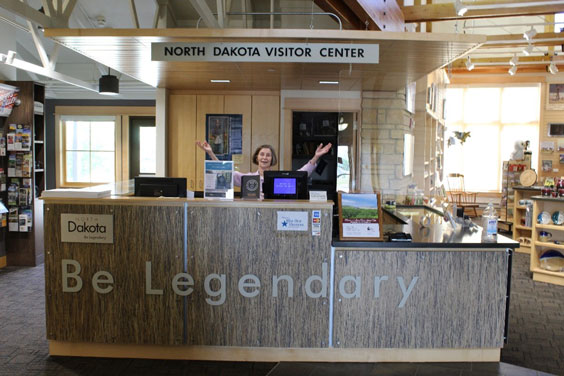 The Chateau De Morès State Historic Site is home to a brand-new visitor center thanks to a partnership with North Dakota Tourism.
First off, we are here to help you plan a legendary trip. From the moment you walk in the doors of the Chateau Interpretive Center, you have options! You can purchase tickets to the historic Chateau, secure your spot on a wagon ride through the bottomlands, and even browse our one-of-a-kind gift shop.
If you are anything like me, there is no such thing as "too much research" for the perfect road trip. Our brochure wall is a great spot to find information from all over the Peace Garden State outlining tourist destinations, statewide trails, local eateries, regional offerings, and more.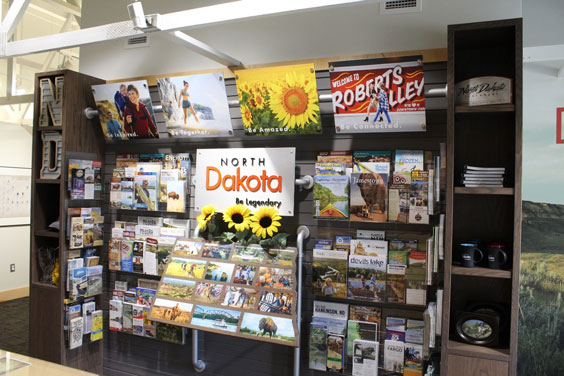 So many brochures, so little time. Where in North Dakota will you go?
Don't forget the selfie! Strike your prettiest—or funniest, or most daring, or just plain fun—pose in front of the new Maah Daah Hey selfie station, where you can insert yourself into the magnificent Badlands landscape. Then tag us on Facebook, @ChateauDeMores, so we can share your glory with our followers.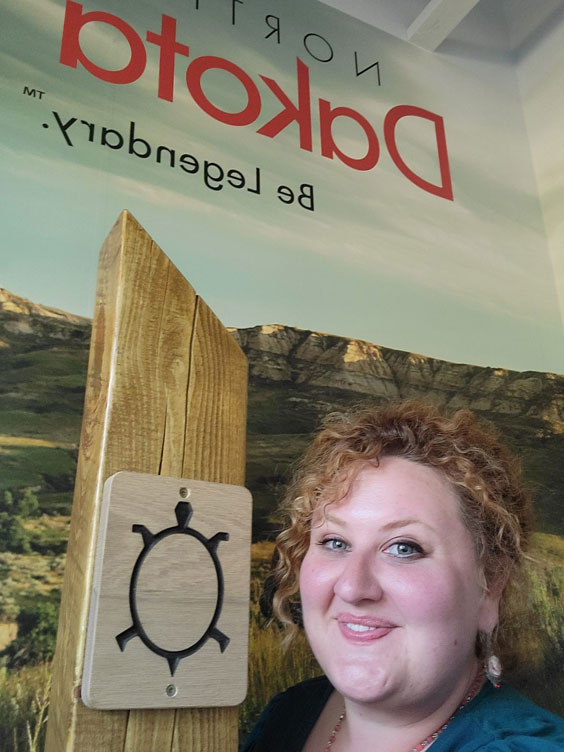 Moi, at the Chateau's Maah Daah Hey selfie station.
Looking for a bit more info? We can also help you maneuver the new North Dakota Tourism website. Here we can help you find specific guides, maps, digital magazines, and suggested routes. We can even print some of these for you. The best part? All of this is free to you!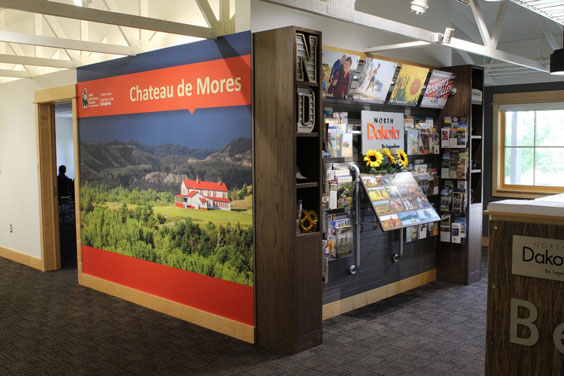 Come on over and see us some time!
This partnership with North Dakota Tourism has already helped the Chateau offer a more well-rounded experience for our guests, and we are excited to watch this effort grow. In the coming years you will be able to find visitor centers like these in all four corners of our state. But for now, your chance to see this project is exclusively at the Chateau. Come check it out! We are open 8:30 a.m.-5:30 p.m. daily and can't wait to see you.