Backstage Pass to North Dakota History
This blog takes you behind the scenes of the State Historical Society of North Dakota. Get a glimpse at a day-in-the-life of the staff, volunteers, and partners who make it all possible. Discover what it takes to preserve North Dakota's natural and cultural history. We encourage dialogue, questions, and comments!
Mural Discovery at Grand Forks Air Force Base
Mural Discovery at Grand Forks Air Force Base

Mural discovered in building 607 at Grand Forks Air Force Base in October 2016. Photograph by Johnathan Campbell.
In early October 2016 Former Governors' Mansion Supervisor Johnathan Campbell (serving as photographer) and I traveled to Grand Forks Air Force Base to record an interior wall mural discovered when some drywall was removed. Candido Veras signed the mural in 1975, when he was an airman at the base. The mural was about three feet by ten feet, but about 30% of it was destroyed when a door was installed through the wall more than 30 years ago. Candido Veras was an airman who painted murals and paintings during his time in the Air Force in the latter half of the 1970s. According to Bryan Booker, 319th Air Base Wing historian, the artist was a regular airman who served for four years and, after separating from the Air Force, continued to pursue his love of art. The University of Texas at San Antonio holds records on Candido Veras, and reports that in 1976 two more murals were painted in the Human Relation Office and the Strategic Air Command Center, also at Grand Forks Air Force Base. There is no record at the base of these murals. It isn't uncommon that murals go unrecorded. Only in the last couple of decades have murals been documented at the Air Force Base.
The building where the remaining mural is painted has been on the base since 1959 and was renovated multiple times. During the current renovation to construct more office space for the 69th Reconnaissance Group, this artwork was revealed. It is painted on hollow concrete blocks in a small windowless room adjacent to a large hangar space.
Generally murals were and continue to be a part of military life, most painted by people of average artistic ability. Previous murals were recorded at the base, at Oscar Zero, (Ronald Reagan Minuteman Missile State Historic Site) and at other military installations in North Dakota and beyond. Murals previously uncovered and documented by the Air Force in North Dakota generally depict mascots, important military events, or reflections on the Cold War. This mural has a different message, emphasizing airmen working together in harmony. Candido Veras's later works retained many of the vibrant colors inspired by his early years growing up in the Dominican Republic, but became more abstract and modernist. Mr. Veras died in 2009 in San Antonio, Texas.
We hope more information will become available on his works in North Dakota.
---
Past Blogger: Susan Quinnell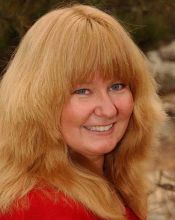 Susan Quinnell tackles the review and compliance work from federal and state agencies. She reviews development projects such as wind farms and pipelines to be sure that the federal and state agencies avoid any harm to significant cultural resources, such as historic buildings or archaeological sites.