Backstage Pass to North Dakota History
This blog takes you behind the scenes of the State Historical Society of North Dakota. Get a glimpse at a day-in-the-life of the staff, volunteers, and partners who make it all possible. Discover what it takes to preserve North Dakota's natural and cultural history. We encourage dialogue, questions, and comments!
Ashley Thronson
Primary tabs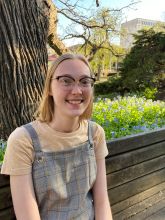 Ashley Thronson is a Reference Specialist in the State Archives. She helps patrons do family history and historical research and especially enjoys digging into the history of events to better understand her world. Outside of the Archives, Ashley enjoys reading, exploring North Dakota's national and state parks, and trying to keep her plants alive.