Backstage Pass to North Dakota History
This blog takes you behind the scenes of the State Historical Society of North Dakota. Get a glimpse at a day-in-the-life of the staff, volunteers, and partners who make it all possible. Discover what it takes to preserve North Dakota's natural and cultural history. We encourage dialogue, questions, and comments!
Elise Dukart
Primary tabs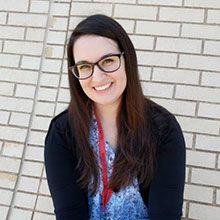 Elise Dukart is a former collections intern and current assistant registrar in the State Historical Society's Audience Engagement & Museum division. She is working on documentation at an off-site storage facility, and also catalogs collections and assists with exhibit development, prep, and installation, as well as other projects. She originally hails from Wibaux, Montana, and just completed a master of arts degree in heritage and museum sciences at Texas Tech University.