Backstage Pass to North Dakota History
This blog takes you behind the scenes of the State Historical Society of North Dakota. Get a glimpse at a day-in-the-life of the staff, volunteers, and partners who make it all possible. Discover what it takes to preserve North Dakota's natural and cultural history. We encourage dialogue, questions, and comments!
Melissa Thompson
Primary tabs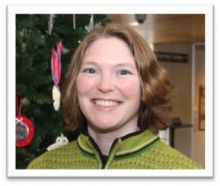 Melissa Thompson
Melissa Thompson is the Registrar in the Museum Division of SHSND. Melissa is the contact for all artifact donations for the Museum Division including historical items, natural history, and fine art. She also deals with the museum collections database, museum policies and procedures, and incoming and outgoing loans.