Backstage Pass to North Dakota History
This blog takes you behind the scenes of the State Historical Society of North Dakota. Get a glimpse at a day-in-the-life of the staff, volunteers, and partners who make it all possible. Discover what it takes to preserve North Dakota's natural and cultural history. We encourage dialogue, questions, and comments!
Chris Dorfschmidt
Primary tabs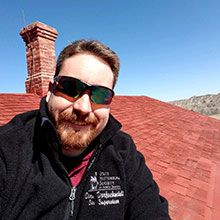 Chris Dorfschmidt was the 15th official Caretaker of the Chateau de Mores State Historic Site before he took his current position as Historic Sites Regional Manager.  Trained as a Social Studies teacher, he has a unique background in historical interpretation, problem-solving, exhibit design and maintenance, gallery management, videography, photography, and a passion for technology that allow him to explore and create an engaging and unique experience for visitors.