Backstage Pass to North Dakota History
This blog takes you behind the scenes of the State Historical Society of North Dakota. Get a glimpse at a day-in-the-life of the staff, volunteers, and partners who make it all possible. Discover what it takes to preserve North Dakota's natural and cultural history. We encourage dialogue, questions, and comments!
Ashenafi Zena
Primary tabs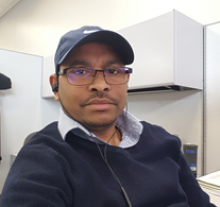 Ashenafi G. Zena (Ph.D.) is the Archaeology Collections Manager at the SHSND. Dr. Zena manages more than 12 million artifacts representing 13,500 years of human history in the Northern Plains of North America. He is currently working on a project that aims to summarize, organize and assemble archaeological collections. This document will allow archaeologists and other scholars, culturally affiliated groups, and members of the public to have better access to SHSND's collections for research, publications, exhibitions, education, and other forms of interpretive work.