Backstage Pass to North Dakota History
This blog takes you behind the scenes of the State Historical Society of North Dakota. Get a glimpse at a day-in-the-life of the staff, volunteers, and partners who make it all possible. Discover what it takes to preserve North Dakota's natural and cultural history. We encourage dialogue, questions, and comments!
Ashli Laducer
Primary tabs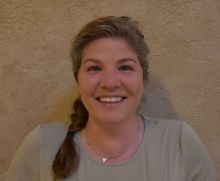 Ashli Laducer is the interpretive coordinator at the Lewis & Clark Interpretive Center and Fort Mandan State Historic Site, where she does everything from fort maintenance to organizing school groups and group tours. She also aids in the creation of program development, interactive activities, as well as the hiring and training of seasonal staff. The mother of two wild (if adorable) children, she finds her happy time hiding in the bathroom.