Backstage Pass to North Dakota History
This blog takes you behind the scenes of the State Historical Society of North Dakota. Get a glimpse at a day-in-the-life of the staff, volunteers, and partners who make it all possible. Discover what it takes to preserve North Dakota's natural and cultural history. We encourage dialogue, questions, and comments!
Potential Acquisitions
Potential Acquisitions
The Museum Division is offered everything from political buttons to cook cars, and we are grateful that people think about preserving items for future generations through the State Historical Society of North Dakota. The Museum Collections Committee needs to be very selective in what is accepted, since we simply do not have the storage space for everything offered to us, especially large items like pianos and buggies. Here are a few items we recently accepted into our collection.
1. Accession 2015.00054 is a wheelchair once owned by Louise Wike and donated by her granddaughter Peggy Wanner.
Peggy's grandmother's name was Louise Carlson. She came from Norway by herself when she was 28 years old in 1905. Louise heard about the "Free Land" and figured she would settle there, sell it, and get rich. She worked her way to Dickinson, ND, and settled on a homestead in 1909 on the southwest quarter of 24-144-98 in Billings County.
In 1939, Louise lost her left leg due to varicose veins and diabetes. When she came home from the Dickinson hospital her family bought her a wheelchair. She also had an artificial left leg that she would only put on when she went outside with crutches.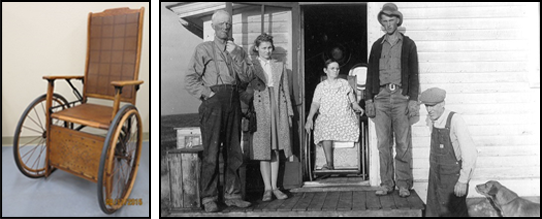 Louise's wheelchair is shown here with a footrest. The footrest was taken off later so she could use her other foot to move around the house and have her arms free.
2. Accession 2015.00050 consists of a collection of toys from Sylvia Schmid's childhood and from her children.
Sylvia's brother received this Buddy L Dump Truck, still with its original paint, for Christmas. The metal headlights are missing because their sister Louise swallowed one of them in December 1947 when she was one year old. That required a trip from Williston to Minot, where the doctor removed the headlight, costing her parents $75. The doctor asked whether he could keep it to add to the collection of all the things he had removed from people's throats.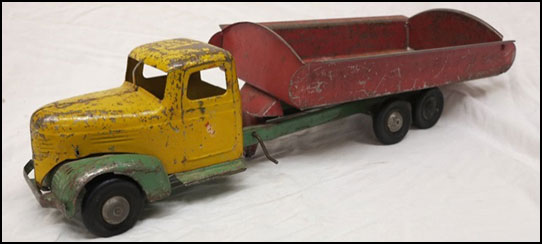 3. Accession 2015.00036 is bowling team blouses and shirts with various sponsors worn by the donor, Darlene Brown, from 1952 to 2015.
Darlene wore the shirts to league games and tournaments held at Nicola Bowling, the Bismarck Bowling Alley, Capitol Bowling, Midway Bowling, and 10-Spot Bowling Alleys.
Rodger's Maytag of Bismarck was their bowling team's sponsor from 1965 to 2003.