Backstage Pass to North Dakota History
This blog takes you behind the scenes of the State Historical Society of North Dakota. Get a glimpse at a day-in-the-life of the staff, volunteers, and partners who make it all possible. Discover what it takes to preserve North Dakota's natural and cultural history. We encourage dialogue, questions, and comments!
Remembering Halloween in the Archives
Remembering Halloween in the Archives
October is a time of transition. As the air becomes crisp and harvest concludes the growing season, the last gasps of summer give way to occasional early reminders of the coming winter.
The month is also special for the State Archives because it is American Archives Month. To celebrate, the Archives has provided a variety of content for the State Historical Society of North Dakota's Facebook page, including a virtual scavenger hunt, our Ask-an-Archivist panel, a Feature Friday, where we highlight the collections our volunteers are working with, and a blog post from fellow Reference Specialist Ashley Thronson.
With Halloween approaching, it is a great time to examine some of the archival holdings related to the holiday and how it's been celebrated over the years. Photographs are one of the best resources to explore the past, providing a visual example of societal differences then and now. We have several examples illustrating how previous generations experienced Halloween. Note the photo below of a Brownie troop sporting their costumes for a Halloween party in 1947. Their happiness at the occasion is evident, and their costumes are largely homemade.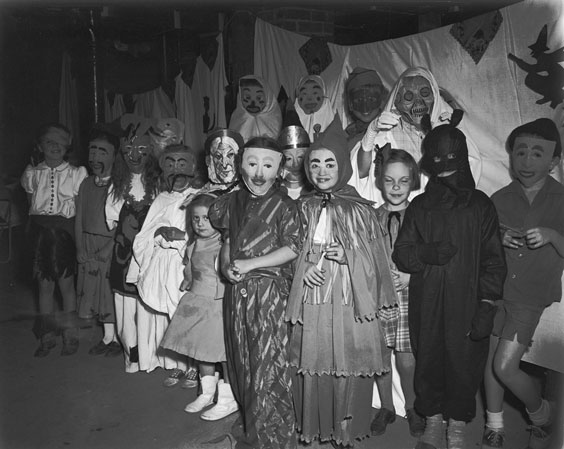 Brownie troop Halloween party in 1947, Williston. SHSND SA 10958-025A-000-00019
Do you remember the delight of annual Halloween parties in your classroom at school, receiving candy and other treats, often having a day of fun activities, or perhaps a movie or a play, and maybe being permitted to wear your costume to school? Generations of schoolkids enjoyed this pastime. While the costumes have certainly changed, as have the treats, the excitement remains.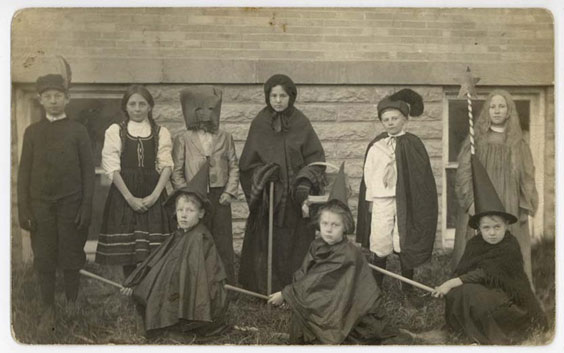 Students in costume for a Halloween play. SHSND SA 11225-0008-000-00110
Despite the kids' somber looks in the above picture, one imagines they had a fun day at school back around 1920. What stands out in this group photo is the three children in the front row dressed as witches. The kids were in costume for a Halloween class play, but it is unknown what play they were performing. In looking at the types of costumes, visions of "The Wonderful Wizard of Oz" come to mind, as the book had been published in 1900, or perhaps the spooky "Legend of Sleepy Hollow."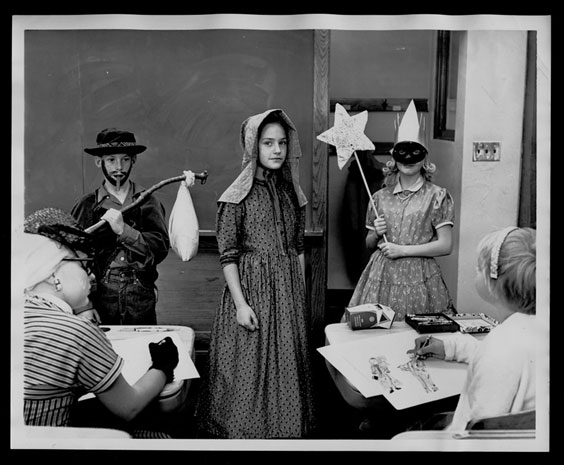 Students Richard Vennie, Laurie Bengenheimer, and Jacalyn Wrangham don their Halloween costumes for class in October 1960. SHSND SA 00080-box03-folder26-00012
Likewise, the above 1960 photo from the Bismarck Tribune Photograph Collection shows kids in their classroom dressed up for Halloween. Notice again that the costumes appear homemade. The seated kids appear to be working on art projects as part of the lesson.
The 1966 image below from the William E. "Bill" Shemorry Photograph Collection shows a large class of happy kids posing with their treat bags, either before or after their Halloween party. What is interesting is that the kids are not wearing costumes. This might reflect social norms for dress in school at the time, which may have frowned upon children wearing costumes. It also could be due to the timing of the day Halloween fell on. Whatever the reason, their bright smiles evoke thoughts of children excited to engage in trick-or-treating.

Happy schoolkids pose with their treats in this 1966 Williston classroom photo. SHSND SA 10958-023G-000-00050
Halloween also can bring joy to those suffering in hospitals, as folks attempt to brighten their days by delivering treats when they otherwise are unable to participate in activities. One great example is that of former North Dakota first lady Betsy Dalrymple, who is pictured below bringing candy to a young boy in Sanford Hospital in 2012. The photo is part of her papers, one of two state series in the Archives related to the office of the first lady of North Dakota.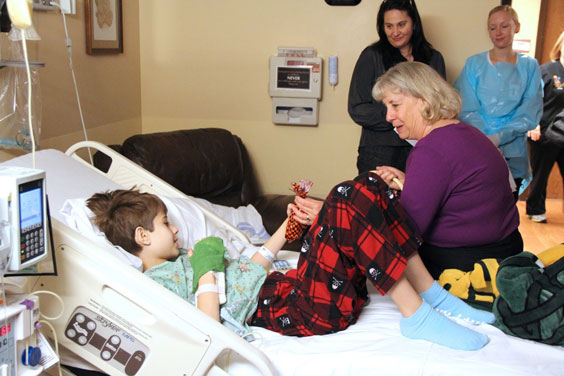 Then-North Dakota first lady Betsy Dalrymple visits children in Sanford Hospital on Halloween 2012. SHSND SA 32404-00694
Halloween is an exciting time, and sometimes the weather here in North Dakota also makes it an interesting evening for the parents and kids scurrying about for candy. Folks may recall warm evenings, or snow and bitter cold heralding a potential long winter on the northern Plains. Reflect upon your past Halloweens and think about what stands out to you. Was it a special time of trick-or-treating with friends or with parents, attending a party, or having a fun day in school?
As we conclude American Archives Month, we hope you have a safe and enjoyable holiday.