Backstage Pass to North Dakota History
This blog takes you behind the scenes of the State Historical Society of North Dakota. Get a glimpse at a day-in-the-life of the staff, volunteers, and partners who make it all possible. Discover what it takes to preserve North Dakota's natural and cultural history. We encourage dialogue, questions, and comments!
Where the Wild Things Are
Where the Wild Things Are
If you remember my previous posts about the SEND program (http://blog.statemuseum.nd.gov/blog/please-dont-eat-artifacts), then you know we have educational trunks that provide history-related objects and information to classrooms throughout the state. Students can touch real things that represent and interpret the history they are learning about. Of the trunk topics we have available, the Fur Trade trunk is always one of the most popular. It is packed with interesting objects that reveal what the world was like when Europeans and Native Americans first engaged in commercial activity together. Just one object can be used to teach a multitude of concepts. For example, this is a leg-hold trap from the trunk: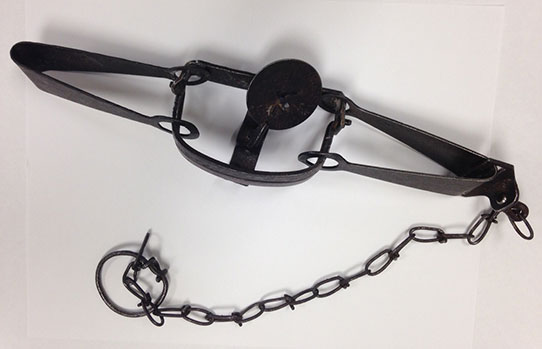 Leg-hold, spring trap from the Fur Trade SEND trunk
The jaws are welded shut so people of all ages can safely handle the object. It is made of steel and is about 27.5" long, including the chain. The long spring on each side of the jaws (as opposed to coil springs) makes it a double, long-spring trap. There is also a round pan with a maker's mark on it.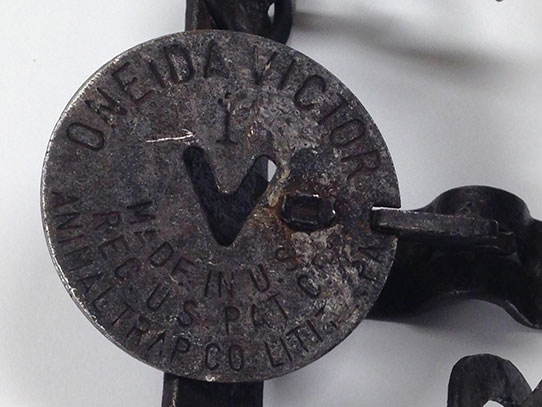 Close up photograph of the trap pan displaying the manufacturer's logo
The pan gives us a lot more information to think about. It is stamped: Oneida Victor 1, Made in U.S., Reg. U.S. Pat of Animal Trap Co. Lititz, PA. There is also a large, noticeable "V" cut into the steel pan. An internet search for the term "Oneida Victor" reveals that the Oneida silverware company traces its roots back to a religious commune in New York that owned several enterprises over the years, including a company that was once the leading manufacturer of game traps.1
What other discussions can this object spark? If we are working with a group of students in a classroom, I would expect a lot of students to have questions about what trapping is. Some students might have first-hand experience with trapping, especially if they live on a farm or their family hunts and fishes. This object might generate a conversation about the ethics of hunting, fishing, and trapping, especially with an adult audience. It would be good for the person leading the discussion to have an understanding of the history of trapping and changes in best practices and standards that the trapping community has developed in response to changing viewpoints on hunting and trapping ethics.
This also opens up a lot of opportunities to talk about and study science, technology, engineering, and math (STEM) topics in relation to land and resource management. Students could be presented with a real life problem: develop a beaver management plan in an urban area. They would need to figure out the range of modern beaver habitat (they can be found in forty-nine states). Students would need to figure out how many beavers the local ecosystem can support, how many are estimated to be living there, and what the best options are for population control. This will also raise some interesting issues for the students including how to coordinate their efforts and how to educate the public about an often controversial issue. What a great example of project-based learning connecting current events to real history—bringing history to the classroom in a relevant way!
---
Minnesota History. "MHS Collections: Society Collects Animal Traps." Winter (1972): 146-148, accessed September 2, 2015. http://collections.mnhs.org/MNHistoryMagazine/articles/43/v43i04p146-148.pdf.