As an intern at the State Historical Society of North Dakota's Audience Engagement & Museum Department, I have spent the past several months inventorying items stored in the collections that lack documented history. Since these objects don't have a written history, I can only imagine the life each must have lived before entering the ND Heritage Center & State Museum's walls.
However, much can be learned from the objects themselves. Since these don't have a written history, I find myself paying closer attention to minute details. Each object becomes a little mystery, a puzzle for me to solve. Below are a few objects that have piqued my interest.
1. Pillow shams

PEB-00992, 00993
These pillow shams intrigued me because of the amount of effort that must have gone into creating them. On each is depicted a woman with text reading respectively, "Good morning," or "Good night." On the morning sham, the woman stands outside with plants at her feet, vines encircling her, as a bird flies nearby. The night sham shows the woman holding a candle and the hem of her dress in one hand and waving a handkerchief through the air with the other. Why? It is hard to know without documented history of the object and information about the maker.
As someone who has had the same unfinished COVID-19-sparked embroidery project sitting in a box untouched since July 2020, I can only dream of having the patience and persistence to complete such a project. The embroidered borders are what really show the extent of effort required. What a tedious task! Kudos to the creator!
2. Ice cream scoop holder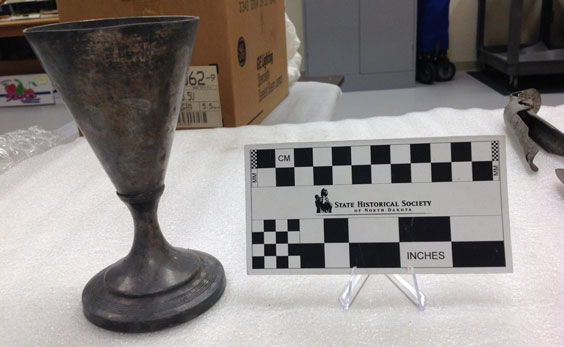 PEB-00742
Initially this object looked just like a regular goblet for drinking, but upon closer inspection I noticed that there was a clear hole straight through it to the base. As opposed to a drinking goblet, this item turned out to be specifically designed to hold paper cups full of ice cream. In the early 1900s, added pressure and restrictions were put on soda and ice cream parlors to ensure that their establishments were hygienic and thoroughly sanitizing their glasses. Cup holders such as this one were created and marketed to the shops in order to provide an easier and cheaper method of sanitization. The hole in the center holds a disposable paper cup, making cleanup easier. These metal cup holders were also advertised as being a cheaper option than glasses.
3. Shoehorn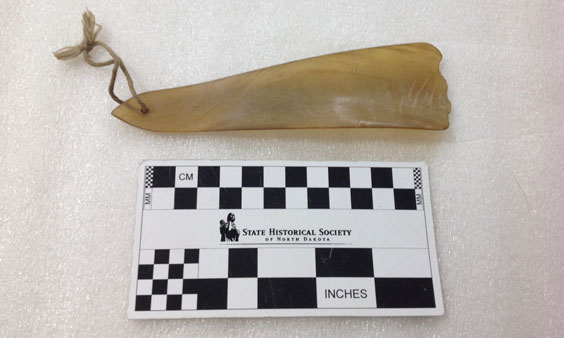 PEB-00829
Sometimes I look at an object and suddenly realize that a question about the universe I had never thought to ask has just been answered for me. That is what I felt as I gazed at this shoehorn, broken but retaining a clear and familiar shape even without its end. The object's name suddenly made much more sense.
"Huh … shoe … horn. So that is where that name comes from."
Shoehorns are tools that make it easier to get your heel down into a tight shoe. While they have faded in popularity over time, they remain an important accessibility tool for many people. Modern shoehorns are often made of durable plastic. However, the original material they were made from, animal horn, can be seen in the example above and likely gave the tool its name.
4. Asbestos iron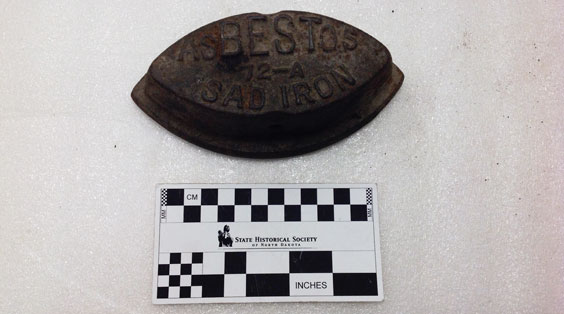 PEB-01087
When I looked at this sad iron, the word "asbestos" across the top caught my attention. I immediately did some research and learned that asbestos was once commonly used to line and insulate sad iron covers in order to allow the iron to hold heat longer and to prevent the user from being burned. Though this handy innovation may not have any documentation telling its specific history, the item itself reveals a dark story in light of what we now know about the health impacts of asbestos exposure.
It's interesting what a single object can tell you if you take the time to listen and pay attention to the little details that make even everyday items useful and unique.